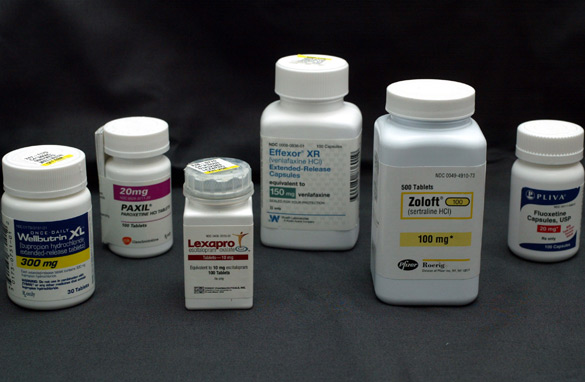 (PHOTO CREDIT: GETTY IMAGES)
FROM CNN's Jack Cafferty:
The number of Americans taking antidepressants has doubled in the last decade...
A new study of 50,000 adults and children shows about 10-percent of Americans - or 27 million people - were using antidepressants in 2005; that's up from 13-million people in 1996.
The report in the Archives of General Psychiatry shows most of the people taking these drugs weren't being treated for depression. Rather - half of them were using the medication for back or nerve pain, fatigue, sleeping problems or other issues.
The study says more people are being treated with antidepressants, and they're receiving more prescriptions. But the percentage of antidepressant users seeing psychiatrists actually fell during this period. This might be because insurance companies don't cover the visits; and it's cheaper for people to just get a prescription.
Some think the increase is due to the fact that it's more socially acceptable to be diagnosed and treated for depression. Also - there are new drugs that are safer and have fewer serious side effects. And, during this time, spending on so-called direct-to-consumer antidepressant advertising increased from $32 million to $122 million during the nine years of the study.
Some are concerned about the results of this study, saying antidepressants are only moderately effective; and that getting therapy can be more effective than just taking drugs.
Also, there have been several public health warnings on these medicines, including that they increase the risk of suicidal thoughts in children and teens.
Here's my question to you: What does it mean when more than one in 10 Americans is on antidepressants?
Interested to know which ones made it on air?
Sam writes:
It means the drug companies' business models are working.
Theresa from Montana writes:
Considering what this country has been through in the last decade, I'm surprised that more of us aren't on happy pills.
Lili-Marlene from Waipahu, Hawaii writes:
As a person who has been on antidepressants and in therapy for over 20 years, I can say that the drugs have become more effective and have fewer side effects. Mixing them with therapy has proved to be a lifesaving method for me. We're talking about a person who becomes suicidal if off of the medications for three weeks.
Ike from Atlanta writes:
It goes to show the problem with health care in America: Doctors have to prescribe these drugs because they don't want to be sued for not doing so, even if the patient does not need it. The companies are happy because they make money. Insurance covers it because they too make money. And the patient: he does not know any better. Most people on antidepressants don't need them. It's all a scam.
H. writes:
I've taken antidepressants off and on for over 30 years after suffering postpartum depression. I talked about my feelings to psychiatrists until we were all blue in the face, but nothing has helped except medication. I've led a normal and productive life thanks to these meds. I know these drugs are over-prescribed, but for some of us they are a life-saver.
Matthew writes:
It means that we should not allow pharmaceutical companies to advertise. Let our doctors tell us what we need, not those who are just trying to profit.
Thaddeus in Milwaukee, Wisconsin writes:
It means 10% of us are nuts. I expected the number to be higher.