FROM CNN's Jack Cafferty:
Before we nominate Kim Jong Il for the Nobel Peace Prize for releasing those two journalists, it's worth remembering who we're dealing with. The fact that former President Clinton was able to gain the women's release shouldn't change anything.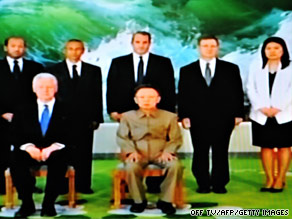 North Korea is still a very dangerous regime armed with nuclear weapons and in the midst of a lot of questions about who will succeed the little mad man who runs the place.
In all likelihood, North Korea would like to sit down with the United States alone and negotiate another of the phony deals they've been party to in the past. They don't like the six party talks aimed at trying to get them to disarm. They would rather get the United States to agree to feed their people without having to do much of anything in return.
There should be no letting up on the part of the group of six nations just because of today's humanitarian gesture on the part of North Korea. These are the same folks who have threatened to fire a missile toward Hawaii and have made repeated threats against South Korea and other of their neighbors.
There is absolutely no reason to believe that today's developments change anything when it comes to North Korea. But North Korea undoubtedly will think it does.
Here's my question to you: How will the release of the two American journalists affect North Korea's relations with the rest of the world?
Interested to know which ones made it on air?
Dave writes:
Hopefully none at all. You don't get brownie points for fixing a problem you started in the first place.
Mike from Washington writes:
This move by Kim is a smoke screen. He has had a lot of pressure over the nuclear discussion and controversy – and he has used this act of good intentions to take focus off of the dangerous issue. Now more than ever, we need to watch N. Korea closely.
Jamal from St. Petersburg, Florida writes:
It's positive. I was done with them all together, with their saber rattling and imprisoning of two lovely journalists. I like Laura Ling's reporting personally, reminds me of an Amanpour. Now, I feel better about them, like they could actually be an active member in the world community. That would be great.
David writes:
I agree with you, Jack. North Korea's leader is a maniac and can not be trusted. On the other hand, this pardon and release of the two U.S. reporters shows just a flicker of humanity. I think our government should formally offer a modest thank you to North Korea, just to keep the ball rolling. If we handle this in the right way, it might not only lead to further talks with NK but even influence that other despot in Iran to release his captive Americans. You never know.
Doug from Columbus, Ohio writes:
Jack, Evidence suggests that Il is ill and N. Korea's leadership is looking to the West as he fades. Today's great news for the two U.S. journalists and their families, who seem poised to re-join their families, may signify something new. Hopefully it does. But, we should insist on the 6-party talks and not simply give in to the emotions of the day. Cautious optimism, Jack.
Geoff from Keansburg, New Jersey writes:
North Korea is a country shut off from the rest of the world. Releasing the girls and hanging out with Bill Clinton was their 10 minutes in the spotlight. This changes nothing. North Korea needs to disarm and help feed their people. Amen.