FROM CNN's Jack Cafferty:
Go figure. Bill Clinton waltzes into North Korea and wins the release of two journalists accused of entering North Korea illegally and engaging in hostile acts.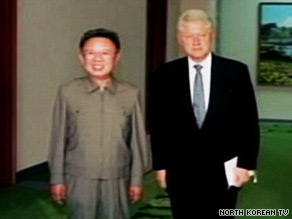 Bill Clinton met earlier today with N. Korean leader Kim Jong Il.
They were sentenced to 12-years at hard labor. Which in all likelihood they would never have survived.
The U.S. has been trying for weeks to win their release. From President Obama to Secretary of State Hillary Clinton, all efforts have been rejected up to this point.
And then Bubba comes along and presto - the two women are free to go.
Makes you wonder what gives... The old expression is, "Beware of a stranger bearing gifts." And no one is any stranger than Kim Jong Il, the weird little dictator who runs North Korea and goes around threatening to blow up the world.
Nuclear tests, missile firings… he's a real day at the beach. And he refuses to even listen to the international community when they suggest he give up his nuclear weapons program in exchange for membership in the community of nations and things like food. North Korea has no food… But Kim could care less.
Recently this absurd regime had taken to calling our Secretary of State, Hillary Clinton names - things like: "She looks like a primary school girl and sometimes a pensioner going shopping." They called her a "funny lady unaware of the elementary etiquette of the international community."
Now Hillary's husband walks in and walks out with these two prisoners. Very, very strange... But the women, their families and the rest of us will take it. Way to go, President Clinton.
Here's my question to you: What does it say that Bill Clinton succeeded in North Korea where the U.S. government failed?
Interested to know which ones made it on air?