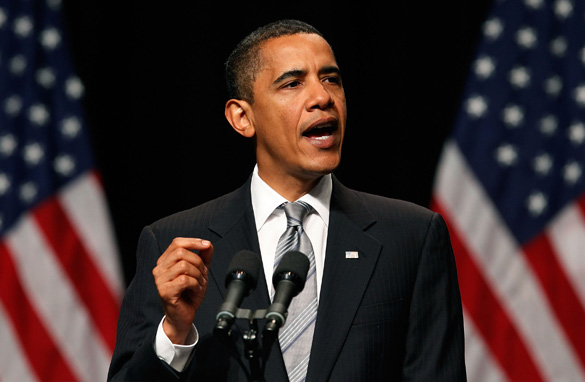 (PHOTO CREDIT: GETTY IMAGES)
FROM CNN's Jack Cafferty:
The Obama administration is not ruling out tax increases on the middle class. And this could be a very big deal.
During the campaign - candidate Obama repeatedly promised the middle class wouldn't see their taxes increase "one single dime." In fact, he said he would cut taxes for "95-percent of all working families, because, in an economy like this, the last thing we should do is raise taxes on the middle class."
Fast forward a year... After bank bailouts, auto bailouts and the economic stimulus package - the president is trying to figure out a way to pay for all this plus health care reform while also reducing deficits. There aren't many choices: either raise taxes or cut spending. White House Press Secretary Robert Gibbs today insisted the president wouldn't break his campaign promise.
But Treasury Secretary Tim Geithner and National Economic Council Director Larry Summers both sidestepped questions over the weekend about raising taxes on the middle class. Geithner said they're not ready to rule out a tax increase to lower the deficit, while Summers pointed out that health care overhaul needs money from somewhere, saying "it is never a good idea to absolutely rule things out, no matter what."
But the problem is, the president is the one who ruled it out. We all remember how former president George H. W. Bush's famously promised: "Read my lips... no new taxes." A couple years later, he raised taxes and that was the end of his presidency. He lost his bid for re-election to Bill Clinton after one term.
Here's my question to you: Would breaking his word on tax hikes for the middle class make Barack Obama a one-term president?
Interested to know which ones made it on air?
B. writes:
He didn't just say this once the way George Bush Sr. said "Read my lips: no new taxes"… Obama literally got elected by preaching this every single time he had a microphone in front of him for two years. This will be the unfortunate reward for all those who voted for Obama believing the fairytale that the rich would be forced to pay for everything, which the rest of America would get for free.
Mike writes:
The White House has clarified today that it won't happen. Rightly so - as it's political suicide. It's a non-story. So stop wasting the public's time by hypothesizing about something that isn't going to happen just so you can join the media "pile on" that is happening to this administration in an attempt to curry favor with "the average Joe."
David writes:
Read my lips: Yes. Everybody loves to get stuff for free. Raising taxes is only popular when others are paying. People whose taxes will eventually go up will turn on Mr. Obama. And, we will have to raise taxes on everybody.
Bill writes:
In my opinion, the American people have seen just about enough of his radical side show to sink any possibility of a second term. Raising taxes will simply sink a ship that has already taken on too much water!
Mark writes:
Jack, The party of tax cuts got us into this mess. All of a sudden, they have discovered fiscal responsibility - too late for many voters. The fiscal cost of preventing a depression is very high. When the recovery comes, it only makes sense that we all will have to pay for it. Biologists have yet to perfect the tree that grows money. If the voters won't respect that, then they will get back the dumbed-down government that we recently kicked out.
Dave writes:
Unless Obama moves very quickly to the middle, he'll be a lame duck. Obama has let the left wing in Congress run wild. It's still likely that come 2013 we will have a Democratic president; you may be able to guess what HER name is.