FROM CNN's Jack Cafferty:
Women make better bosses than men. So says Carol Smith, a senior vice president at Elle media company. She tells the New York Times that there's no contest: Women are better advisers, mentors and rational thinkers.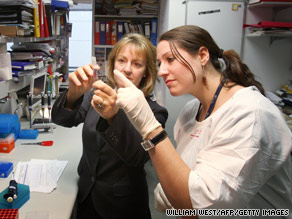 She adds that male bosses "love to hear themselves talk," and that in some jobs, she's intentionally arrived late to meetings so she could miss the sports talk before they got down to business.
Some experts agree: They say women are more collaborative and democratic than men. Also, they say women are more encouraging and less bossy - because people tolerate bossy women even less than bossy men.
One former female executive says women give more "straight talk" than men, and that many employees complain about the feedback style of male bosses - calling it everything from harsh to evasive.
But others say that women don't necessarily make better bosses. They find them less likely to take risks and say they're more emotional, which can be a bad thing... They say that women who it make it to senior management positions wind up belittling other women as a way to prove their own superiority. One study shows that women report less stress if their boss is a man.
Research also shows that good managers usually exhibit more so-called masculine traits - like autonomy and independence - than feminine traits - like warmth and sensitivity - to what others need.
Here's my question to you: Do women make better bosses?
Interested to know which ones made it on air?
Darrell from Houston writes:
The answer is simply no. Women are the best co-workers, great team players, and just great to work with, but this all changes when they are the boss! Women have one major flaw in their character: emotions. As a boss, she will either be the best you've had or your worst nightmare/enemy...and this is just Monday and Tuesday...depending on how all of her other relationships are going in her life!
Melissa writes:
Speaking as a woman, I say no they don't. Women are, by nature, cattier, and even crueler in some ways than men. Plus most women think they have something to prove so they're also more aggressive because of it.
Kathy writes:
Very possibly they do. However, a blanket statement is never entirely correct. Women very often are more organized and better able to multi-task than men. They can be much more sensitive to the underlying causes of problems.
Steve writes:
Well, for the last 7 years, I've had a boss who is a woman. She is not a big risk taker at all. She kind of goes with the flow, like a lot of women do. I am married and it feels like I have to cater to both all the time.
Julie from Austin, Texas writes:
I think this is a sexist question. I wish everyone would finally accept the fact that there are women who are bad bosses and women who are good bosses – just like men. I manage 36 people and have been told that I am a "good boss". My husband on the other hand worked for a woman who only made "emotional" decisions and was absolutely impossible to work for.
Ken writes:
I've been out of work for over 3 years. Right now, I'd be happy to have a coffee table for a boss.
Graham writes:
Jack, Your boss, man or woman, needs to find more for you to do.