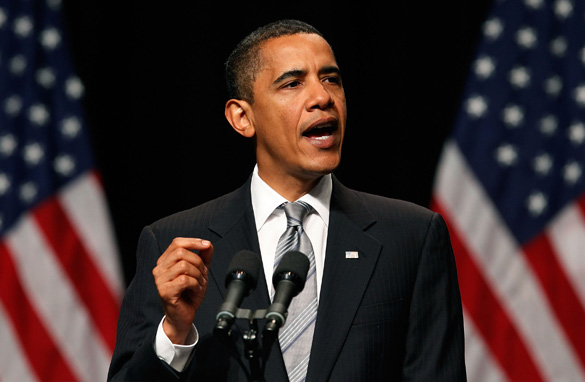 (PHOTO CREDIT: GETTY IMAGES)
FROM CNN's Jack Cafferty:
The Obama administration is not ruling out tax increases on the middle class. And this could be a very big deal.
During the campaign - candidate Obama repeatedly promised the middle class wouldn't see their taxes increase "one single dime." In fact, he said he would cut taxes for "95-percent of all working families, because, in an economy like this, the last thing we should do is raise taxes on the middle class."
Fast forward a year... After bank bailouts, auto bailouts and the economic stimulus package - the president is trying to figure out a way to pay for all this plus health care reform while also reducing deficits. There aren't many choices: either raise taxes or cut spending. White House Press Secretary Robert Gibbs today insisted the president wouldn't break his campaign promise.
But Treasury Secretary Tim Geithner and National Economic Council Director Larry Summers both sidestepped questions over the weekend about raising taxes on the middle class. Geithner said they're not ready to rule out a tax increase to lower the deficit, while Summers pointed out that health care overhaul needs money from somewhere, saying "it is never a good idea to absolutely rule things out, no matter what."
But the problem is, the president is the one who ruled it out. We all remember how former president George H. W. Bush's famously promised: "Read my lips... no new taxes." A couple years later, he raised taxes and that was the end of his presidency. He lost his bid for re-election to Bill Clinton after one term.
Here's my question to you: Would breaking his word on tax hikes for the middle class make Barack Obama a one-term president?
Interested to know which ones made it on air?