FROM CNN's Jack Cafferty:
Millions and millions of Americans have lost their jobs since this recession started in December of 2007; and the unemployment rate is expected to top 10-percent before the end of this year.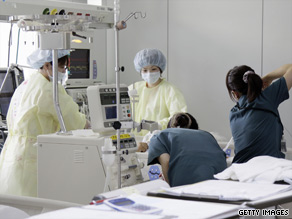 Job opportunities in the health care industry are on the rise.
The harsh reality is that a lot of these people have remained out of work for a very long time. Many of the businesses that used to employ them - the auto industry, finance, real estate and construction - have also been hit hard by the recession.
At the same time, other fields - like health care, clean energy, computer science and government - are expected to grow a lot in the years to come.
USA Today reports that millions of Americans are making dramatic job changes. A survey by Career-Builder shows 71-percent of workers who were laid off and haven't found jobs yet say they're looking for work outside their fields. This could mean the unemployment rate stays higher for longer - as workers need time to get training and then find jobs in a new field.
And these transitions aren't always easy. Sometimes the unemployed have to spend thousands of dollars getting that training - to learn skills needed for a new career. And then they find they have to take pay cuts.
The government is trying to help... the economic stimulus package included $4 billion over three-years to help retrain and place unemployed people in new jobs.
Here's my question to you: Has the economy forced you to consider a career change?
Interested to know which ones made it on air?
Dan from Santa Barbara, California writes:
Yes. I used to be a guest services manager at a local hotel. I am almost finished with the hospitality management course. But now I am working as a night clerk in an independent living facility for seniors, in conjunction with the housing authority and looking at more training in social services. I expect more job security and standard benefits in that field, which is lacking in many hotel jobs. It's been a good thing for me.
Keith from Florida writes:
Yes. I had a 30-year career in consulting corporations and companies in trouble. I was laid off in December '08 and there are still no indications that I will have work any time soon. So, I am searching for management positions at a considerable cut in salary and no benefits, just to survive. I have sent out over 600 resumes since December.
Mare writes:
My training is in three industries: film, graphic design and interior design. All three of the fields I am trained in have been dealt severe blows here in Los Angeles. I am considering not only a change of career, but also a change of states, and if worse comes to worse, change of country.
Jake writes:
I've had the ill-fortune to have graduated with a degree in architecture in August '08. A year later, almost to the day, I'm still without work and surviving only on the good graces of my parents. It's been a humbling year. Certainly, I wish I had chosen nearly ANY other field.
Nelson from Somerdale, New Jersey writes:
With what I owe, the costs for my medications, and little prospect of finding employment, I am seriously considering a career as a medical school cadaver.