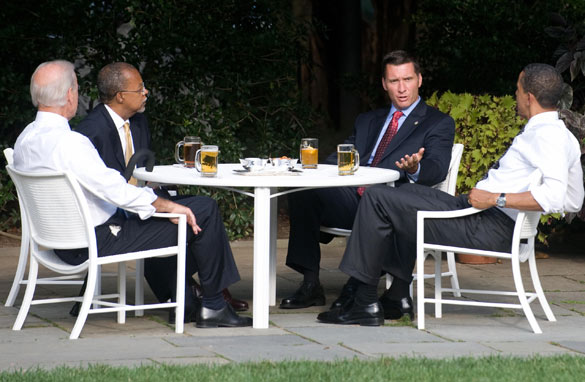 Pres. Obama (R), Sgt. Crowley (2nd R), Prof. Gates (2nd L), and VP Biden (L) drank beers on the White House South last night. The so-called Beer Summit was held after Crowley arrested Gates at his home, sparking tensions and racial furor. (PHOTO CREDIT: SAUL LOEB/AFP/GETTY IMAGES)
FROM CNN's Jack Cafferty:
After beers at the White House - Sgt. James Crowley and Prof. Henry Gates say their talks were productive and that they plan to meet again.
The two men - at the center of what grew into a national conversation on race - met with President Obama and Vice President Biden at a patio table outside the White House.
Crowley says it was a frank discussion - that they agreed to move forward rather than dwell on the past. He didn't give more specifics except to say that no one apologized. Gates says he hopes the experience will "prove an occasion for education, not recrimination."
President Obama said he was thankful to both men for joining him for a "friendly, thoughtful conversation." The White House is probably glad to have this meeting done with, hoping the president can get the nation to focus on his priority of health care.
It probably wasn't the president's finest moment - a new Pew poll shows 41-percent of those surveyed disapproved of the president's handling of the Gates arrest - only 29 percent approved.
Gates was arrested for disorderly conduct - after making charges of racism against Crowley. President Obama inserted himself into the debate by saying the Cambridge police acted "stupidly" while admitting he didn't know all of the facts. Later, the president walked back his comments a bit - but stopped short of apologizing.
Here's my question to you: Sgt. Crowley says no one apologized at the White House meeting. Were apologies in order?
Interested to know which ones made it on air?