FROM CNN's Jack Cafferty:
President Obama has taken a hit in the polls. Gallup finds that the president's average job approval rating was at 56-percent last week; that was down from 59-percent the previous week.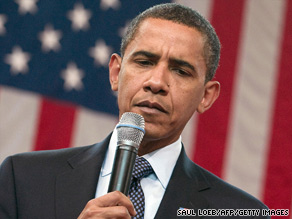 This three-point drop is the largest week-to-week decline that Gallup has seen in the president's job approval rating since he took office in January.
And it's not just Gallup. The president has been under 60-percent approval in every single poll released so far in July. He was above 60-percent in most polls taken in June.
It's not clear why the president isn't as popular these days; but a couple of possible reasons stick out. Headlines in recent weeks have mostly been dominated by the debate over health care reform.
The president and Democrats are losing steam on this issue - a centerpiece of his agenda - now that it looks like neither house will pass a bill before their August recess.
Mr. Obama continues to pressure Congress to get it done this year - although polls show most Americans aren't in a rush to pass reform that quickly.
Also, President Obama waded into a firestorm last week by saying the Cambridge police acted "stupidly" in the arrest of Harvard Professor Henry Gates. That story still hasn't gone away - as the president, the professor and arresting officer James Crowley are set to have a beer at the White House tomorrow.
For a man with shrewd political instincts, it was not the president's finest moment.
Here's my question to you: What's behind the steep drop in Pres. Obama's approval rating in the past several weeks?
Interested to know which ones made it on air?
Jeff writes:
Two things: health care and the Crowley/Gates incident. In terms of health care, he comes across to me as not knowing what is even in the bill. He is great at giving a speech but, if you listen carefully, his words have no substance… The Crowley/Gates deal is a fiasco, a national fiasco caused by no one other than Obama. It has detracted from his message and cost him credibility.
Russ from Pennsylvania writes:
His approval rating is dropping because Americans are finally remembering what clowns the average left-wingers are. They demand too much intrusion into our lives. It's Jimmy Carter all over again.
Max from Fairview, Texas writes:
Jack, It is simple. Obama acted stupidly.
Pearlie writes:
The Gates incident is a problem for him. People are afraid to talk honestly about race and blacks who do – even the president – will suffer. Blacks walk a fragile line where race is concerned. This is why Obama had to basically avoid the issue during the campaign. This is why his ratings are suffering.
Derek writes:
Why? Because the Republicans and their assorted allies are doing everything in their power to make him look as bad as possible. They're mad they lost, and instead of "putting country first," they're playing politics. How sad that so many Americans aren't bright enough to see it clearly.
Michael from New Jersey writes:
Jack, I thought you knew: it was discovered that he can't turn water into wine.
Ketch writes:
It just bears out the old saying: "Every so often you have to elect a Democrat to remind you why you should have elected a Republican."