FROM CNN's Jack Cafferty:
Slapping a tax on fattening foods could help pay for health care reform while also combating the nation's growing obesity epidemic. A new study by the non-partisan Urban Institute says a 10-percent tax on fatty foods could raise more than $500-billion over the next 10-years.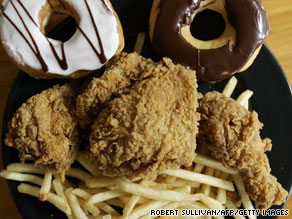 They liken it to the steep taxes on tobacco, which helped dramatically reduce the number of smokers in this country.
However, taxes alone won't do the job when it comes to battling obesity. The study also recommends banning advertising of fattening foods to children and better labeling these products.
Restaurants and beverage groups have already waged a multimillion-dollar media campaign against any new taxes on food or drinks. They say it's no time to add taxes on "the simple pleasures we all enjoy" and argue this tax would be unfair since it soaks the poor.
But the authors of the study say that as much as $180 billion of revenue raised could be used to subsidize poor families' purchase of fruits and vegetables; and to help make healthier foods available to them.
There's no question something has to be done. At the rate we're going, this study says 40-percent of adults will be obese by 2015. And it's costing us a fortune. Obesity-related issues like diabetes and high blood pressure cost more than $200 billion a year - half of which is paid by taxpayers, whether they're fat or not.
Here's my question to you: Should fattening foods be taxed like tobacco?
Interested to know which ones made it on air?
Rudy from Irvington, New York writes:
Why can't the government get the companies that sell this junk to act more responsibly? Fast food fat promoters lure customers into buying their caloric-laden goods from the time consumers are children. "Here, why not have a mondo-sized order of fries with that double cheeseburger with mayonnaise? Oh, and don't forget your gallon sized soft drink." Don't tax those who don't know any better. Tax those who are making a lucrative profit from other people's handicaps.
Seth writes:
They should absolutely be taxed. If people are going to destroy their own health by consuming junk food, they should be taxed in order to help pay for their own massive health care bills later in life.
Max writes:
No and here is why: taxing something never solves a problem, it creates more problems. Jack, if you want a Twinkie, you're gonna buy it… Being obese is a choice, period. We don't need the government playing parent.
David writes:
Not the food, the people. Overweight people should pay more for health insurance. The only way Americans make the changes 'they' should make is through their wallet.
Melissa writes:
If you'd like to make life harder for poor people, sure, tax away. I'm sure they're willing to pay up. The simple reality is that most fattening foods are cheaper then their healthier counterparts. Just visit any food pantry and see what's on the shelves - it's highly-processed, high fat, high sodium foods that are cheap to produce.
Jason in Schenectady, New York writes:
Absolutely! Talk about a win-win tax. Promotes health and helps pay for health reform. Perfect.
Samir from Florida writes:
Why even bother living? Go ahead, tax my donuts and fries. Let's tax your celery and bananas because the increase in demand will cause a shortage of natural foods and we'll have to stimulate the farmers.