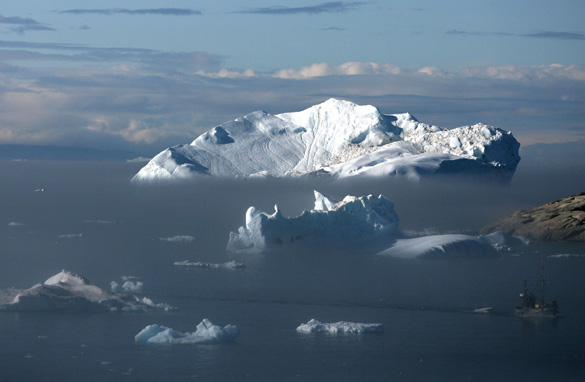 Icebergs float off the coast of Greenland. Scientists believe Greenland - with its melting ice caps and disappearing glaciers - is an accurate thermometer of global warming. (PHOTO CREDIT: URIAL SINAI/GETTY IMAGES)
FROM CNN's Jack Cafferty:
Global warming has become a religion among the "First World urban elites."
That's just one of the explosive charges made by Australian geologist Ian Plimer, who says man-made global warming is little more than a con on the public perpetrated by environmentalists and politicians.
According to the Vancouver Sun - the controversial geologist says that global warming is not caused by human behavior, rather it's an entirely natural phenomenon.
By looking at a time frame going back thousands of millions of years - he says the changes in the Earth's climate are cyclical and random. For example - polar ice has only been present on Earth for less than 20-percent of geological time; and animal extinction is a national part of evolution.
Plimer shoots down the current logic that global warming can be reversed. He gets especially worked up about carbon dioxide, saying it's actually at the lowest levels it's been for 500-million years.
Critics have slammed Plimer's book - saying he makes a lot of basic errors and manipulates data.
Here in the U.S., it depends on who you ask about global warming. The city of Chicago is seeing its coldest July in 67-years. The average temperature has been 68.9 degrees.
On the other hand, ask the people in parts of Texas, melting under a blazing sun and suffering through one of the worst droughts in many years if they think global warming is real.
Here's my question to you: Are you more or less concerned about global warming than you were a year ago?
Interested to know which ones made it on air?
Jeff from Anacortes, Washington writes:
Jack, It is supposed to be 102-degrees here in Seattle today. That is an all-time high since record keeping started 118-years ago. We have had only four-days of rain since the middle of May. If that is not enough proof, then I don't know what will convince some folks. Yes, there is global warming.
Robert from Alaska writes:
I have to say that I am less concerned because I have heard of conflicting data that suggests to me that more studies are necessary. That said though, I reside in Alaska and I do see the effects of warming on our glaciers and tundra.
Mike writes:
I've lived in the Northeast for twenty years of my life so far and I have never seen acorns falling from the tree so early. I've also never seen so much rain this time of the year, native tomatoes and other vegetation won't grow. I hope things don't get worse here.
Brian writes:
I wasn't concerned about global warming a year ago and I am definitely not concerned about it today!
Jim from Oakland, California writes:
Global warming is real, and is caused by human activity. More than 90-percent of the world's climatologists agree with this statement and give it a probability of greater than 90-percent. You may not like it, but you better believe it. Denial won't make the temperature go down.
Josh writes:
Less. We had a cooling scare in the 70s. Then warming. Now it's just conveniently climate "change." The only sure thing about climate "change" is just that: change. It's a slick political move to rename it.
John fom Watertown, Massachusetts writes:
We just had a terrible winter and a pretty lousy spring, so my mind is elsewhere. This debate will go on and on until either New York looks like Venice or it doesn't. In any case, none of us will ever see it.