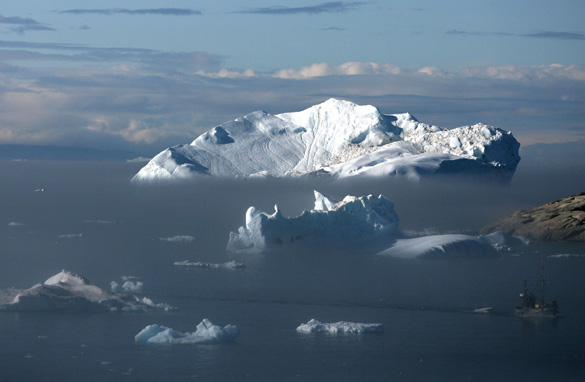 Icebergs float off the coast of Greenland. Scientists believe Greenland - with its melting ice caps and disappearing glaciers - is an accurate thermometer of global warming. (PHOTO CREDIT: URIAL SINAI/GETTY IMAGES)
FROM CNN's Jack Cafferty:
Global warming has become a religion among the "First World urban elites."
That's just one of the explosive charges made by Australian geologist Ian Plimer, who says man-made global warming is little more than a con on the public perpetrated by environmentalists and politicians.
According to the Vancouver Sun - the controversial geologist says that global warming is not caused by human behavior, rather it's an entirely natural phenomenon.
By looking at a time frame going back thousands of millions of years - he says the changes in the Earth's climate are cyclical and random. For example - polar ice has only been present on Earth for less than 20-percent of geological time; and animal extinction is a national part of evolution.
Plimer shoots down the current logic that global warming can be reversed. He gets especially worked up about carbon dioxide, saying it's actually at the lowest levels it's been for 500-million years.
Critics have slammed Plimer's book - saying he makes a lot of basic errors and manipulates data.
Here in the U.S., it depends on who you ask about global warming. The city of Chicago is seeing its coldest July in 67-years. The average temperature has been 68.9 degrees.
On the other hand, ask the people in parts of Texas, melting under a blazing sun and suffering through one of the worst droughts in many years if they think global warming is real.
Here's my question to you: Are you more or less concerned about global warming than you were a year ago?
Interested to know which ones made it on air?