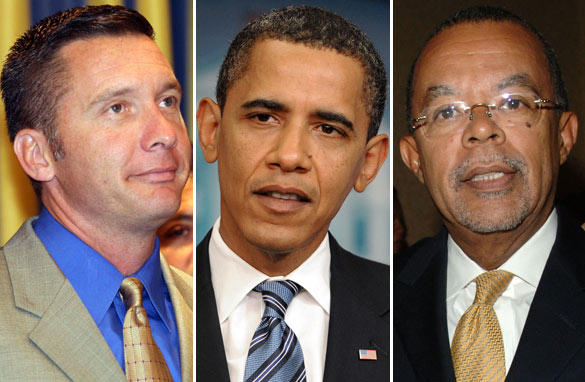 Pres. Obama has invited Sgt. James Crowley (left) and Prof. Henry Louis Gates (right) to the White House Thursday evening. (PHOTO CREDIT: GETTY IMAGES)
FROM CNN's Jack Cafferty:
After the arrest of Harvard Professor Henry Louis Gates spiraled into a national debate about race, President Obama is hoping to take things down a notch with a casual meeting at the White House.
The president is scheduled to meet Thursday evening with Professor Gates and the arresting officer - Sgt. James Crowley. The White House says the meeting - which is set to happen at a picnic table outside the Oval Office - is about "having a beer and de-escalation."
It's clearly to the president's advantage if he can take the heat away from this story, get it out of the news, and let the focus return to his priority of health care reform.
Mr. Obama has said he hopes the incident in Cambridge can end up being a "teachable moment" for the country. The president acknowledged that he contributed to the whole incident by saying the police "acted stupidly" without knowing all the facts in the case.
Gates initially called himself the victim of a rogue officer and made allegations of racism; although Friday he said he looks forward to meeting with the president and Crowley. Gates says he hopes this moment can help improve racial relations.
Crowley, who has taught a course on racial profiling for years, stands by his actions; and Cambridge police - who had called on President Obama to apologize - have praised Crowley.
Here's my question to you: Should President Obama meet at the White House with Professor Gates and Officer Crowley?
Interested to know which ones made it on air?
DJ from Walton Beach, Florida writes:
Honestly it seems to me like a waste of time. It seems this nation will always have racial tensions of some sort. This is very small compared to health care, where Obama should be focusing pretty much all of his energy. And I'm not being racist at all; I am a black man.
Esther from Alexandria, Virginia writes:
A man who had proved he was in his own home was arrested anyway by a policeman who didn't like his attitude. The arrested man has an exemplary record of service through books, public TV series, and teaching. The policeman evidently has an exemplary record too. I applaud Pres. Obama for reducing the whole mess to a beer at the White House. May all our tense confrontations end that way this hot summer. I'm not much of a drinker, but I'll drink to that.
Yan writes:
Yes. And Obama should apologize to Officer Crowley in person and in public, if he does not want racism to be part of his legacy. The whole race issue over the incident was stirred first by his friend Gates and then by the president himself.
Joe writes:
No. The media has played this into a huge incident. The parties involved probably feel that it has become an important incident. The reality is that this is just a misunderstanding between two men. They both could have handled themselves a little better. But the bottom line is that this was a small incident. Nobody was hurt or killed. No shots were fired. No punches were thrown…. The president has better things to do than insert himself into small disagreements.
Don writes:
Hey, maybe we should all get into a royal rumble with the police and fight it out, then we can have a kegger at the White House.
Craig from Arizona writes:
Well, I guess if Obama doesn't have anything more pressing. Maybe he could do it once a week. Pick out a couple of guys with a dispute and put it on daytime TV. Instead of Judge Judy, we'll call it "Let's Have A Beer" starring Pres. Obama. The revenues from the show could pay for his health care plan.