FROM CNN's Jack Cafferty:
The "cash for clunkers" program is a win-win situation for everyone. That's according to the government - which says the $1 billion plan will help the environment, automakers and drivers who want to trade up out of their old cars.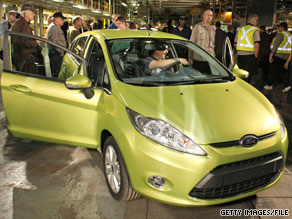 Cars bought through the program must get at least 22 miles per gallon, like this Ford Focus. Rules are different for trucks.
Under the plan - taxpayer money will be used to give people a credit of up to $4,500 to replace their gas guzzlers. The idea is they use that money to buy certain new vehicles that are more fuel efficient.
The traded-in cars have to be less than 25-years-old; and their titles can't have any liens.
The program already has about 16,000 registered auto dealers signed on; and some say showroom traffic is already up since the program's official start on July 1.
About 250,000 cars are expected to be junked through this program before it ends on November 1. This will hopefully jump start auto sales - which have been down about 35-percent across the industry.
But not everyone is so sure that "cash for clunkers" is a good idea. Under the plan - the gas guzzlers must be destroyed. Some auto recyclers say they'll lose a lot of money in sales from old engines and other car parts.
They also say the program will hurt lower-income buyers who can't afford a new car - even with the government credit, and they say that destroying cars will drive up prices for spare parts.
Here's my question to you: Is cash for clunkers a good idea?
Interested to know which ones made it on air?
Keith writes:
Cash for old and inefficient cars that do nothing but spew noxious fumes into the air is a great idea. Maybe the stimulus package could be expanded to include old and inefficient politicians who also spew nothing but noxious fumes.
Mike writes:
Disappointed as I am that my '97 Wrangler isn't on the list (even though a '98 is), I think it's an excellent program that goes right to the need. For once, the people most likely to benefit are the working poor and lower middle class while the economic stimulus generated helps to preserve the jobs of the very same people.
Jeff writes:
No, it's not a good idea. Win-win situation for everyone? It's not helping me out any. Who pays for this? The government. Where does the government get its money? You and me. So, if you don't have a clunker then you're paying for others to get rid of theirs.
Mitchell from Connecticut writes:
Yes, but it would be better if more vehicles qualified for the trade-in. My 1994 (no typo) Toyota Corolla wagon has 166,000 miles on it, but because it gets more than 18mpg it doesn't qualify. A neighbor's Hummer does, though. Great.
Charles writes:
I am 63-years-old and I didn't think I could ever justify buying a new car. This program convinced me otherwise. I got rid of a gas guzzler and have a new vehicle, which is much safer and more efficient.
Greg writes:
Cash for clunkers, great idea. How much do I have to pay to get rid of you, Jack?
Buster from Poughkeepsie, New York writes:
Settle down, Jack, that sleek and sexy horse and buggy you drive doesn't count as an old clunker.