FROM CNN's Jack Cafferty:
As lawmakers continue to squabble over health care reform with no deal in sight - it turns out most Americans don't think members of Congress even understand the legislation they're crafting.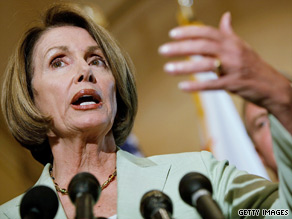 House Speaker Pelosi answers questions about progress on health care reform.
A new Gallup poll shows only 27-percent of those surveyed say Congress has a good understanding of the issues in this debate. That's compared to 48-percent of Americans who say they personally understand the issues.
Only 16-percent say that both they and their representatives understand the issue.
These numbers are pretty depressing; and they also explain why most Americans are in no rush to see health care reform passed this year.
Gallup suggests these findings go to the larger point of how little trust Americans have in the people they send to Washington to represent them. Another recent poll found only 17-percent say they have a lot of confidence in Congress.
Meanwhile the Democratic Party might be its own worst enemy when it comes to health care reform. House leaders now say that their chamber won't vote on the bill before the August recess, mostly due to concerns of the fiscally conservative Blue Dog Democrats.
House Speaker Nancy Pelosi had earlier insisted they had the votes to pass the bill before the August break; but now she says the House needs more time. The Senate has already said they won't vote on health care until the fall.
With majorities in both houses of Congress, it seems more than a little curious President Obama can't get his number one priority passed.
Here's my question to you: How confident are you that Congress understands the health care issue?
Interested to know which ones made it on air?
Dr. G. from Leonardtown, Maryland writes:
I think the question should have been: "How confident are you that Congress has your best interest at heart when it comes to this health care issue?" Answer: Not at all. It seems Congress is intoxicated by lobbyists and their deep pockets and we're just a piece of chewing gum stuck to the bottom of their expensive shoes.
Kathy from Georgia writes:
I think all members of Congress during their recess should be required to go to a county hospital and sit in the ER 24 hours for at least three days a week. Maybe what they see there would, for one time in their lives, encourage them to do the right thing.
Amber from Austin, Texas writes:
Jack, Does anyone in Congress really understand anything about what it's like to live paycheck to paycheck with a sick child and no health care? I say take away their health care, make them pay 20% of their income to have it, and see how they start liking the real America!
Jan writes:
I think Congress understands health care reform perfectly, and the ones who are in debt to the insurance companies also understand perfectly that they will get punished if they move health care forward.
Jo writes:
They understand as much as can be expected. They know that the people want health care, and they know millions need it.
Ron from Fort Mill, South Carolina writes:
As slow as Congress is, it will be a long time before they understand. They have to be told many times and then they still may not get it. If many of them were in Obama's age group, this issue would already be resolved.
F. from Manchester, New Hampshire writes:
I don't care if Congress doesn't understand health care reform, I just want them to pass it so I can get affordable health care before I die.