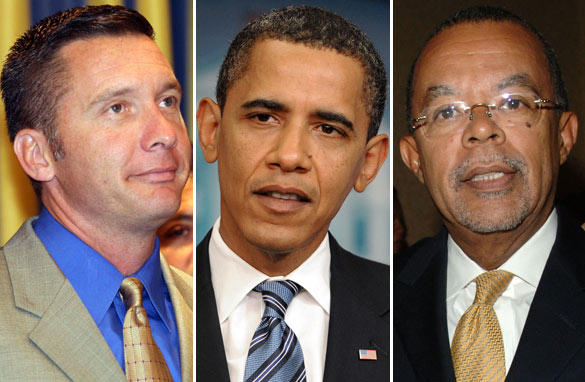 Pres. Obama has invited Sgt. James Crowley (left) and Prof. Henry Louis Gates (right) to the White House Thursday evening. (PHOTO CREDIT: GETTY IMAGES)
FROM CNN's Jack Cafferty:
After the arrest of Harvard Professor Henry Louis Gates spiraled into a national debate about race, President Obama is hoping to take things down a notch with a casual meeting at the White House.
The president is scheduled to meet Thursday evening with Professor Gates and the arresting officer - Sgt. James Crowley. The White House says the meeting - which is set to happen at a picnic table outside the Oval Office - is about "having a beer and de-escalation."
It's clearly to the president's advantage if he can take the heat away from this story, get it out of the news, and let the focus return to his priority of health care reform.
Mr. Obama has said he hopes the incident in Cambridge can end up being a "teachable moment" for the country. The president acknowledged that he contributed to the whole incident by saying the police "acted stupidly" without knowing all the facts in the case.
Gates initially called himself the victim of a rogue officer and made allegations of racism; although Friday he said he looks forward to meeting with the president and Crowley. Gates says he hopes this moment can help improve racial relations.
Crowley, who has taught a course on racial profiling for years, stands by his actions; and Cambridge police - who had called on President Obama to apologize - have praised Crowley.
Here's my question to you: Should President Obama meet at the White House with Professor Gates and Officer Crowley?
Interested to know which ones made it on air?