FROM CNN's Jack Cafferty:
The U.S. will do everything it can to prevent Iran from getting a nuclear weapon. Secretary of State Hillary Clinton says Tehran's pursuit of nuclear weapons is futile.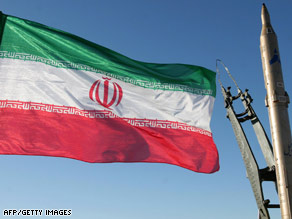 The tough talk comes after Clinton annoyed Israel last week when she said the U.S. would cope with a nuclear Iran by arming allies in the region and extending a "defense umbrella." Israel said the U.S. should focus on stopping Iran from getting a weapon, instead of acting like it's a done deal.
Iran insists they are enriching uranium for energy. A lot of people think they're lying.
Meanwhile the U.S. is trying to convince Israel that diplomatic efforts with Iran are worthwhile. Secretary of Defense Robert Gates - who met in Israel with Prime Minister Benjamin Netanyahu today - says the U.S. hopes to make progress with Iran by September.
President Obama has warned Tehran that it has until the end of the year to show serious progress toward ending its nuclear program.
According to Netanyahu, Gates said the U.S. and Israel see eye-to-eye when it comes to Iran's nuclear threat. Netanyahu stresses "the need to use all means" to stop Iran from getting a weapon. Other Israeli officials have also said that "no option should be removed from the table."
The U.S. is worried that if Israel goes ahead with a pre-emptive strike against Iran - it could create even more problems in the Middle East.
Here's my question to you: How can the U.S. prevent Iran from acquiring nuclear weapons?
Interested to know which ones made it on air?
Conor from Chicago writes:
We can't. We don't have the resources to widen our wars in that region, especially since Iran would prove to be the most difficult of these countries to conquer. We can't just bomb their nuclear sites because of the risk of creating a Chernobyl in the Middle East… The reality is that Iran will get the bomb and we will have to adjust.
Patrick writes:
We have given them 5 years to give up their nukes. Time and time again, they have refused to do so. The time for diplomacy is over.
Erich writes:
The U.S. cannot prevent Iran from getting nukes, and the U.S. has no right to tell a sovereign nation what it can or can't do. If the U.S. did not bow to Israel's command in every instance of Middle Eastern foreign policy, anti-US sentiment would be non-existent, and if Israel allowed the displaced Palestinians the right to some of their land back, anti-Israeli sentiment would decrease, giving nations like Iran no legitimate reason to harness nuclear weapons for the sake of civil defense.
Linn writes:
They need to put more sanctions in place now, not when Iran is ready to "Wipe Israel off the map" like they said they want to do.
Floyd writes:
The only way I see is to bomb or invade Iran. I think the U.S. is tired of that approach. Letting Israel do the bombing keeps our troops out of it, but I think most of the Middle East would go nuts. Arming allies might be the only choice left. We do not have the military manpower to go to war with any more countries and then rebuild and democratize them.
Glenn writes:
We can't. We'll just have to deal with it. Israel has its own nuclear deterrent anyway.