FROM CNN's Jack Cafferty:
Health care reform took a serious hit last week; and the White House is going to need to find a way to get things back on track. Despite President Obama's lofty rhetoric and flowery speeches, divisions within the Democratic party are threatening to derail the centerpiece of his presidency.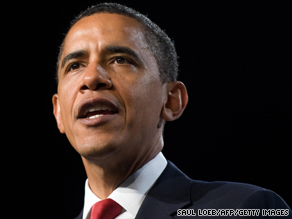 The Senate won't be taking action until the fall; and it's not clear whether the House will act before its August break either.
The president also made matters worse by wading into the arrest of Harvard Professor Henry Louis Gates at his prime-time news conference. That put much of the focus during the later part of the week on racial issues - instead of health care.
More bad news for the president has come from the non-partisan Congressional Budget Office. The CBO estimates the health care plan supported by the White House would save almost no money over 10 years. They're talking about an outside panel that would decide what treatments would and would not be covered by Medicare.
Finally, most Americans are not in that big a rush to get health care passed.
A Gallup Poll shows that less than half of those surveyed - 41-percent - say health care reform needs to be passed this year. 30-percent say it should be done, but not necessarily this year... and 24-percent say there shouldn't be health care reform at all.
Here's my question to you: What can President Obama do to regain momentum on health care reform?
Interested to know which ones made it on air?
Simon from Orlando writes:
I think the question of "should he" be answered first. That's what the general public seems to be wrestling with. There are too many questions regarding cost, implementation and effect that have not been addressed to the satisfaction of most citizens… He's not going to regain momentum until a clearer picture of what national health care really means emerges.
JC from Georgia writes:
He has to attack the tort and insurance abuse issues. As my doctor says, "There is no amount of your money I won't spend to keep me out of court."
Erik writes:
The president could regain momentum by explaining what is going to be in the reform… Give the people a detail or two to rally behind. President Obama is finding out a vague idea of reform isn't nearly as easy to gain support as a vague slogan of change.
Jerry from Iowa writes:
Nothing. Leave it alone, it is not a priority. How about finishing up one or both of our never-ending wars?
N. writes:
Simple, put "single-payer" on the table and:
1) Tell the insurance lobby to get lost
2) Start publicly embarrassing the senators and representatives that have been taking hand-outs to derail reform.
Lou writes:
He needs to get his message across better. I am for health care reform, but I have no idea what plans are on the table.
Richard from Colorado writes:
Speak softly, carry a big stick, and use it to beat the Blue Dogs and Republicans severely about the head and shoulders.