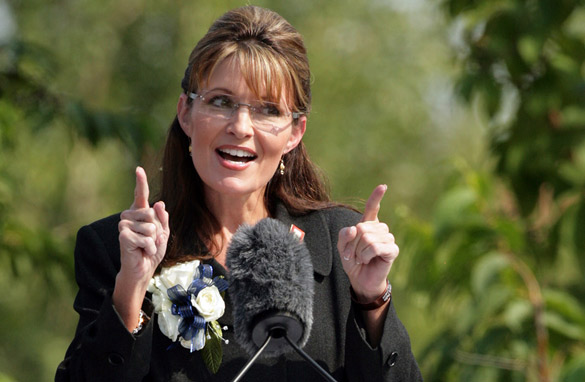 Sarah Palin delivered her farewell speech as she officially resigned during the annual Governor's Picnic at Pioneer Park in Fairbanks, Alaska. (PHOTO CREDIT: ERIC ENGMAN/GETTY IMAGES)
FROM CNN's Jack Cafferty:
While stepping down as Governor of Alaska - Sarah Palin is blasting many who she sees as critics, including the news media.
In the kind of speech only Palin can give, she said freedom of the press was an important right... and one that soldiers have died to protect... adding, "So, how about, in honor of the American soldier, you quit making things up."
Palin also said, "Our new governor has a very nice family, too, so leave his kids alone."
The former governor didn't elaborate on her criticism of the media... but in the past she's talked about her and her family being unfairly treated by reporters and bloggers. However, she didn't seem to have a problem with the media when she was using her family to try to get elected last fall.
Palin also criticized so-called Hollywood starlets who are active against gun rights, along with the "partisan operatives" who filed ethics complaints against her. She even went after one undefined group who she said, "seem to just be hell-bent on maybe tearing down our nation, perpetuating some pessimism and suggesting American apologetics." ... Say what?
As for Palin's future - she's being equally vague... Concluding yesterday's campaign style speech by saying only: "Let's all enjoy the ride."
Palin has plans to write a book and campaign for other Republicans. Some think she'll end up hosting a radio or TV show or hit the speaker's circuit. Others say Palin has her eye on the White House in 2012.
Here's my question to you: Has Sarah Palin been treated unfairly by the news media?
Interested to know which ones made it on air?
Mack from Michigan writes:
Jack, It's not the media's fault that Sarah Palin's family resembles a cast of characters from some nonsensical sitcom about life in a trailer park. It's also not the media's fault that she will respond to the simplest of questions with a rambling, incoherent, confusing bunch of incomplete thoughts and sentences that make absolutely no sense! It was her choice to step into the media spotlight and the media has every right to do its job.
Cameron writes:
I believe she has been treated unfairly in respect to the fact that she has worked her way up from simple beginnings to become Governor of Alaska. No one has given her credit for her hard work and perseverance to achieve her success.
Eric writes:
Palin is not being unfairly treated by the media. She likes to complain because she gets air time each time she moans about the supposed bad treatment. It is clear to me that her value orientation is that of a good Republican but her intellect and knowledge base are not up to the task. The media is more than aware of this and reflects it in its coverage.
Janet writes:
Yes, she has been made fun of and her kids have been maligned, which should never have happened. She can fight for herself, but they can't and shouldn't have to.
Robin writes:
The press held up a mirror to Ms. Palin and she did not like what she saw: reflections of a self-absorbed, attention-seeking ninny, ignorant to six decimal places.
Rueben writes:
The news media reports exactly what she says and does. The reason she comes out looking like a cartoon character and a weirdo is because "the news media reports exactly what she says and does". Sarah is a dingbat. She gets away with being a goofball is because she is hot looking.
Chuck writes:
Jack, Being the fair, measured and objective journalist you are, why don't you answer that question?