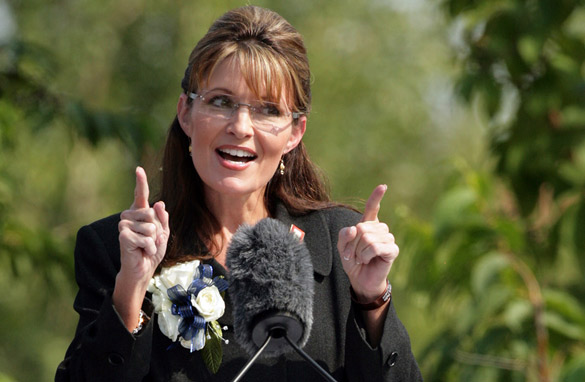 Sarah Palin delivered her farewell speech as she officially resigned during the annual Governor's Picnic at Pioneer Park in Fairbanks, Alaska. (PHOTO CREDIT: ERIC ENGMAN/GETTY IMAGES)
FROM CNN's Jack Cafferty:
While stepping down as Governor of Alaska - Sarah Palin is blasting many who she sees as critics, including the news media.
In the kind of speech only Palin can give, she said freedom of the press was an important right... and one that soldiers have died to protect... adding, "So, how about, in honor of the American soldier, you quit making things up."
Palin also said, "Our new governor has a very nice family, too, so leave his kids alone."
The former governor didn't elaborate on her criticism of the media... but in the past she's talked about her and her family being unfairly treated by reporters and bloggers. However, she didn't seem to have a problem with the media when she was using her family to try to get elected last fall.
Palin also criticized so-called Hollywood starlets who are active against gun rights, along with the "partisan operatives" who filed ethics complaints against her. She even went after one undefined group who she said, "seem to just be hell-bent on maybe tearing down our nation, perpetuating some pessimism and suggesting American apologetics." ... Say what?
As for Palin's future - she's being equally vague... Concluding yesterday's campaign style speech by saying only: "Let's all enjoy the ride."
Palin has plans to write a book and campaign for other Republicans. Some think she'll end up hosting a radio or TV show or hit the speaker's circuit. Others say Palin has her eye on the White House in 2012.
Here's my question to you: Has Sarah Palin been treated unfairly by the news media?
Interested to know which ones made it on air?