FROM CNN's Jack Cafferty:
The Cambridge cops want an apology from the President of the United States for saying the police "acted stupidly" in the arrest of Harvard Professor Henry Louis Gates Jr.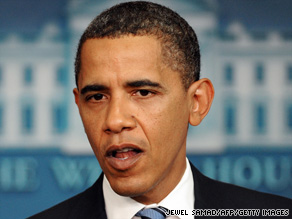 They didn't get one today – but they got something:
The president made a surprise appearance in the White House briefing room today... saying he spoke with the arresting officer and that he didn't mean to malign the police department. But he stopped short of apologizing.
This was a local story that likely would have gone away in a day or two... until President Obama got involved.
Mr. Obama criticized the arrest of Gates even though he admitted he didn't know all the facts. The first black president also talked about how blacks and Hispanics are still unfairly singled out for arrest.
Gates was arrested for disorderly conduct - when police responded to a possible break-in at his home. They say Gates at first refused to display ID... and then accused the officer of racism.
Turns out the arresting officer Sgt. James Crowley - who stands by his actions - taught a racial profiling course for five-years. The commissioner of the Cambridge police department says Crowley's actions were not racially motivated.
The International Association of Chiefs of Police says it's "critically important" to have all the facts on any police matter before making a public statement. And Republicans say Mr. Obama wasn't acting "presidential" by rushing to judgment.
Here's my question to you: Should President Obama apologize for saying Cambridge police acted "stupidly" in the Gates arrest?
Interested to know which ones made it on air?
P. writes:
It was wrong of Pres. Obama to make comments on the situation for many reasons, but perhaps the most important is that it has inflamed racial tensions rather than bring constructive attention to the real issues at hand… As far as the president is concerned, I am disappointed because he has just proven himself to be a 'black' president rather than everyone's president… To me, says that he is more concerned with race issues than he let on during his campaigns.
Bea writes:
Jack, The real concern in all of this is that the president commented on an issue that he didn't have all the facts on (by his own admission). Will he comment, act or react to other issues without having all the facts? Scary.
H. from Seattle writes:
President Obama was 100% correct and anything short of what he said would've been phony and politically motivated. A man was arrested in his home even after providing identification. That was stupid, period.
Matthew writes:
Absolutely. I've lost a lot of respect for him over the issue. Imagine how devastating it would be to have the president call your actions stupid when you have an incredible track record and were just following procedure. The president should apologize immediately.
Michael from Dallas, Texas writes:
This became a story because of one serious misjudgment, the unnecessary arrest. Now that it is a story, why don't we treat it as an opportunity? This could be the point when black men and white policeman start to realize what it is that sets off these unpleasant occurrences. I am not siding with either side but the arrest was unnecessary and probably occasioned by Professor Gates' bad attitude as seen by Officer Crowley. Therefore it could be called a stupid act.