FROM CNN's Jack Cafferty:
As Alaska Governor Sarah Palin gets ready to quit Sunday and become former Alaska governor - a new poll might put a damper on her future political plans.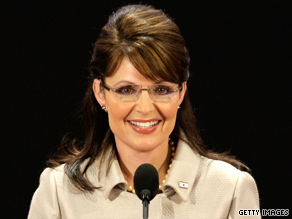 The Washington Post/ABC News Poll shows 53-percent of Americans view Palin negatively, while only 40-percent see her in positive terms - the lowest level in this poll since she was tapped as the Republican vice presidential nominee.
Palin is one of the most polarizing figures in modern politics. She is still quite popular among members of her own party: 70-percent of Republicans view her in a positive light - but that number is down from pre-election levels. More importantly she has also lost ground among white evangelicals - the base of the Republican party.
Here's some more...
57-percent of those surveyed say Palin doesn't understand complex issues. What's wrong with the other 43-percent? I guess they didn't see the Katie Couric interviews.
47-percent say Palin understands problems of people like them...
And only 40-percent say she is a strong leader.
Sarah Palin - who is leaving office about 18-months early - says she plans to campaign for Republican candidates. A lot of people think she has her eye on a White House run in 2012 - yet this poll shows Palin running third behind Mike Huckabee and Mitt Romney among Republicans and GOP-leaning independents.
Sarah Palin has also been in the spotlight since last fall's election for other reasons - including ongoing ethics charges and public family feuds.
Here's my question to you: Is Sarah Palin still relevant?
Interested to know which ones made it on air?