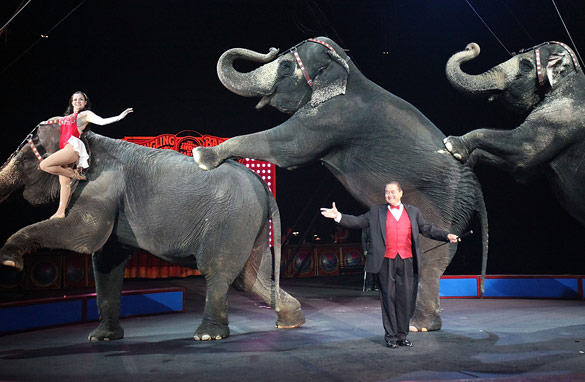 File photo of Ringling Bros. elephants. These animals were not featured in the video we aired. (PHOTO CREDIT: GETTY IMAGES)
FROM CNN's Jack Cafferty:
People for the Ethical Treatment of Animals has released a video that it says shows abuse of circus elephants by the Ringling Brothers and Barnum and Bailey Circus.
The video shows animal handlers using a sharp metal object known as a bullhook to strike the elephants across the head, legs and body. In one part - a trainer curses at an elephant and then strikes the animal… telling it to "back up."
PETA says the video was shot by an undercover member who posed as a stagehand and worked for the circus for six months.
He said the circus elephants and tigers are regularly put through this kind of cruelty. The animal rights group says it has filed a complaint with the Agriculture Department under the Animal Welfare Act.
The circus denies the abuse claims and says it's looking into the validity of the video. They say they were in compliance with federal, state and local laws - and were inspected 10 times during the period that PETA claims the video was taken. The company says it loves its elephants and is proud of its efforts to care for and increase the endangered Asian elephant population.
But this isn't the first time Ringling Brothers has come under fire for allegedly mistreating animals. A 2000 case is set to be decided in federal court this month.
Here's my question to you: Should the use of wild animals in circuses be outlawed?
Interested to know which ones made it on air?
Eric from Kirtland, Ohio writes:
I am not an animal activist, but I am a father who strives to raise my children the right way. I never take my kids to the circus, and when they beg me to go, I take the time to explain to them that there's never a good reason to be cruel to an animal. When I see an elephant, one of Earth's most majestic creatures, standing with all four feet on a small stool, I am deeply troubled. Any logical person knows that they're looking at an animal that has been tortured repeatedly to perform such a trick.
Jennifer writes:
I've only been to one circus where the wild animals rode bikes and jumped through hoops of fire. The animals looked thin and their coats were unhealthy. It was pathetic, sad and not entertaining. My children only had empathy for them. After the experience, I have refused to see or support any of these circuses.
Jim writes:
I don't think they should be outlawed. They should be monitored to ensure the animals are not being abused.
Susan from Tuscaloosa, Alabama writes:
Any suspicion of animal abuse should require immediate suspension of the use of such animals until the accusation is thoroughly investigated. Animals cannot speak up on their own behalf and there is no corner of Hell hot enough for anyone who would abuse, neglect, or injure them. They have no voice but ours. We must demand that they are properly cared for.
Carol writes:
In these times, when saving the planet and all the endangered species is of such importance, why would it be necessary for the continued cruel and degrading treatment of the animal kingdom's most threatened citizens? Ringling Bros. needs to respect them, not use them for profit. Hire more clowns.