FROM CNN's Jack Cafferty:
It seems unlikely that President Obama is going to get his way... when it comes to Congress passing health care reform before its August recess. Although House Speaker Nancy Pelosi insists that the Democrats have enough votes to pass their health care bill in the House - she hasn't scheduled a vote yet.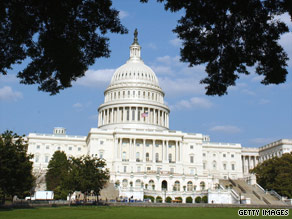 Pelosi has suggested she may keep the chamber in session past its scheduled vacation if necessary - saying she wants to see a bill.
However, one top conservative from the so-called "Blue Dog" group of Democrats says even though they're making progress in negotiations, "we have a long way to go."
Republicans don't think it's going to happen either. House Republican Whip Eric Cantor says, "If they're going to get this passed next week, it's going to have to be a changed bill." Meanwhile - over in the Senate - officials say it appears the hopes of holding a vote before the August recess are gone.
Although the president didn't repeat his demand last night that Congress pass legislation before the month-long break... the White House insists the time to act is now. It's likely that Mr. Obama realizes time is not on his side if this thing gets delayed, saying :"If you don't set deadlines in this town, things don't happen. The default position is inertia."
The House is scheduled to leave town next Friday - and the Senate the following week.
Here's my question to you: Should Congress remain in session until it completes the health care legislation?
Interested to know which ones made it on air?
Phil from Georgia writes:
Yes, they should stay in session. They are on a roll and nothing is a greater motivator than vacation being delayed until bills are passed. The perfect time is now for health care and we are going to need everyone to do their part in order to make it over the finish line.
Jerry from Alpharetta, Georgia writes:
No, Congress should not remain in session. Congressmen have to go back to their districts to hear from their constituents on this critical issue. Setting an unrealistic target date is naive and does not give adequate time to review all of the issues, let alone just read the multi-thousand page bill.
Gretchen from Denver writes:
Congress has some nerve taking a vacation when this country needs so much. They should stay and work until they have the health care bill done and passed. What a bunch of brats. I think they are taking their voters for granted.
Risa from Chicago writes:
No. Health care is a complex, multi-faceted issue whose problems lie beyond a simplistic focus on insurance coverage. Rushing through short-sighted, band-aid legislation won't solve anything. I, for one, am tired of political expediency and unrealistic demands for instant fixes trumping a more rational, long-term consideration of solutions.
Jennifer writes:
Yes, as a small business owner struggling to provide insurance to my employees, I don't get a vacation and neither should they.
James writes:
At my job, we finish before we leave. A vacation sounds like the job is done, and it's not. They are stalling so they don't need to take a stand - as always.