FROM CNN's Jack Cafferty:
Only months after being bailed out by billions of our taxpayer dollars... Wall Street is on track to pay employees even more than it did before the financial meltdown.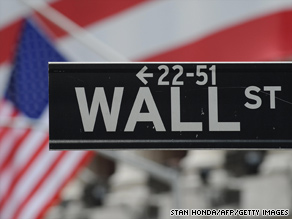 The Washington Post reports that so far this year the top 6 banks have set aside 74 billion dollars to pay employees - that's up from 60 billion dollars at this time last year - before the bottom fell out.
Washington is up in arms over this... with lawmakers blasting these financial institutions for going back to old habits. They are also promising to pass legislation to increase oversight on Wall Street pay days.
In last night's press conference - President Obama said Wall Street hasn't changed its behavior yet, saying: "I'd like to think that people would feel a little remorse and feel embarrassed and would not get million-dollar or multimillion-dollar bonuses."
All six of the top U.S. banks got federal bailout money last year. Three of them - Goldman Sachs, Morgan Stanley and J.P. Morgan Chase - have since returned those funds. Yet - they still benefit from other emergency federal programs.
All of these banks - except for Morgan Stanley - posted profits this quarter. Some bank executives say it shouldn't be surprising that compensation goes up as performance improves.
Here's my question to you: Did Wall Street learn anything from last year's meltdown?
Interested to know which ones made it on air?
Russ from St. Paul, Minnesota writes:
Of course they didn't, we bailed them out. The only way you learn from failing is actually being allowed to fail. It's like giving $1,000 to a friend with a gambling addiction and then being surprised to hear he blew it all at the track.
Gary from Scottsdale, Arizona writes:
Certainly not. No more than the political hacks at all levels who've cheated on their wives and never seem to learn. Money, like sex, corrupts and the Wall Streeters are no different from politicians – they just have a different objective.
Investors should sleep with one eye open.
Carolyn from San Jose, California writes:
Absolutely. They learned that if fleecing their investors takes a turn for the worse, they can turn around and fleece the government and the taxpayers.
Linda from Santa Fe, New Mexico writes:
No, they didn't learn anything. Until there is either some sort of regulation preventing excessive compensation or some legislation making it mandatory for shareholders to approve compensation packages, they will keep doing as they have been.
C. from Birmingham, Alabama writes:
Wall Street is the greatest evil on this planet. It is a cesspool of greedy, malevolent old profiteers. They are incapable of learning anything that doesn't fill their pockets with more money.
Hank writes:
They learned that if they screw things up badly enough the government will give them money!
James from Idaho writes:
No, Jack, Wall Street didn't, but I sure did. My community credit union never looked so good.