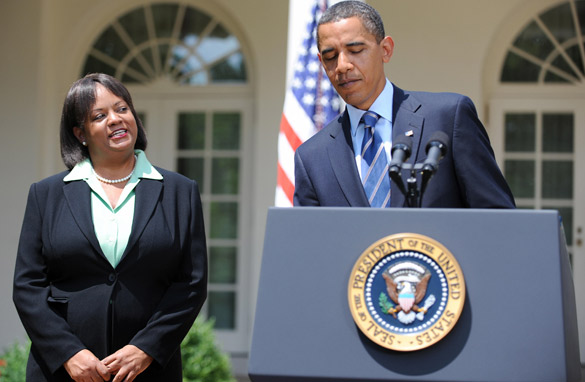 President Obama announced Dr. Regina Benjamin as his nominee for Surgeon General in the White House Rose Garden last week. (PHOTO CREDIT: TIM SLOAN/AFP/GETTY IMAGES)
FROM CNN's Jack Cafferty:
In a nation where more than one-third of adults are obese - the president is coming under fire for his selection of an overweight surgeon general.
ABC News reports that Although Dr. Regina Benjamin has been praised for her top credentials - like creating a medical clinic for the poor after Hurricane Katrina - many believe that Benjamin's appearance sends the wrong message as the nation's top doctor. It is estimated that Benjamin is as much as 40 pounds overweight.
The Department of Health and Human Services insists that Benjamin is highly qualified, saying: "She is a role model for all of us, and will be an outstanding surgeon general."
And supporters suggest her job is to make health care decisions - not to look good. They say her size might help her better understand the problem of obesity. Some health experts highlight studies that show it's possible to be fat and healthy, while others say the president himself - who still smokes cigarettes - isn't the best role model for good health either.
But - there's no doubt obesity is a growing crisis that's costing the U.S. billions of dollars a year. Fat people are at higher risk for heart disease, diabetes and cancer among other things. Critics also point out that Benjamin could set a better example for the black community - where obesity is even more prevalent.
Here's my question to you: What message does it send if the surgeon general of the U.S. is overweight?
Interested to know which ones made it on air?