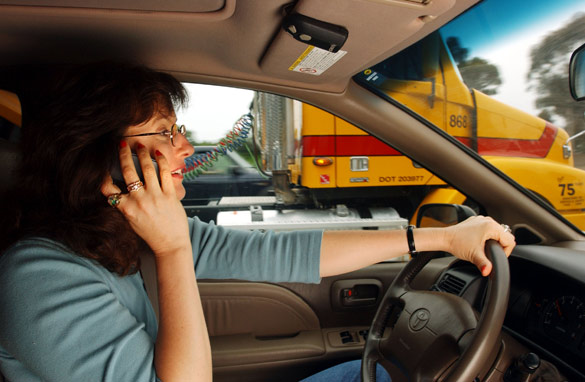 (PHOTO CREDIT: GETTY IMAGES)
FROM CNN's Jack Cafferty:
Here's another example of government transparency. Not. Using a cell phone while driving is dangerous; but for some reason the government didn't want the American people to know about it. The New York Times reports that in 2003, the National Highway Traffic Safety Administration withheld hundreds of pages of research on the hazards of cell phone use while driving.
The former head of the agency says he was urged not to release this information so as not to upset members of Congress who wanted the agency to stick to gathering safety data... He says he was told the agency might lose billions of dollars if Congress thought they were lobbying states.
But critics say not sharing this information with the public has cost lives; and allowed people to get used to multi-tasking while driving. Some experts consider the practice as dangerous as drunken driving.
Researchers wanted to recommend that drivers not use cell phones - including text messaging - while driving, except in an emergency. They also warned that hands-free laws might not be the answer - since it's the cell phone conversation itself - not just holding the phone - that can distract drivers.
It's estimated that in 2002, cell phone use by drivers caused 955 deaths and 240,000 accidents.
Here's my question to you: Why would the government suppress research about the danger of cell phone use while driving?
Interested to know which ones made it on air?
Susan from Boulder, Colorado writes:
For the same reason most information is withheld from us: special interests groups with highly paid lobbyists, who have their own agendas, promising campaign contributions to politicians who have their own agendas.
Theresa from Bozeman, Montana writes:
It's simple. This research was conducted during the Dark Ages of the Bush Administration where science was spit upon, especially if it might endanger the profits of large corporations.
Michael from Alexandria, Virginia writes:
Jack, Almost a stupid question. I can think of two reasons: they like driving while talking on their phones and because telecom lobbyists give so much money to Congress that they are afraid that they will get slammed if they say anything.
Phil writes:
I think the cell phone companies and their lobbyists probably didn't want this information released. Who would buy a cell phone if they couldn't use it in the car? After all, they used to be called "mobile phones."
Rich from New York writes:
How ironic that the Bush-Cheney Administration that eavesdropped on our cell phone conversations supposedly to save American lives probably cost American lives by suppressing important data about cell phone use while driving.
Ann from Sulphur, Louisiana writes:
Maybe it's because some members of Congress are more interested in being able to say they are dealing with a problem for their constituents after it becomes apparent, than in preventing it from becoming a problem to begin with. It's all about appearances.
Ed writes:
It is hard to understand the dangers of texting drivers while you are riding in the back of the lobbyist's limo.