President Obama has a lot riding on his health care reform plan-and at this point it's too close to call. The president insists the legislation isn't about him or about politics... but rather about a health care system that is breaking America's families, businesses, and economy.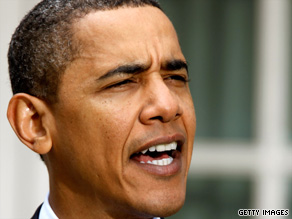 President Obama delivered remarks this morning about health care reform legislation in the Rose Garden at the White House.
Not everyone's buying that argument and the Republicans smell blood.
South Carolina Republican Senator Jim DeMint said that stopping the president's push for health care could be his "Waterloo." Conservative columnist Bill Kristol has urged opponents of the president's plan not "to let up on their criticism."
Republicans are screaming about the costs - pointing to a report by the nonpartisan Congressional Budget Office that these plans won't pay for themselves - and instead will wind up increasing the budget deficit.
The chairman of the Republican Party calls Obama's plan socialism.
And - it seems like the Republicans are gaining traction. Approval of the president's handling of health care is slipping, and Mr. Obama has been forced to take his case directly to the American people - with a prime-time news conference tomorrow followed by a town hall on Thursday.
Health care reform was a major part of the president's campaign platform; and if he doesn't get it through Congress now, it's likely to be much more difficult, if not impossible, to get it done later - once Congress starts pandering to voters for the midterm elections.
Here's my question to you: When it comes to health care reform, how big are the political stakes for President Obama?
Interested to know which ones made it on air?
Jeff from Cleveland writes:
Jack, The stakes aren't as high for Obama as they are for the congressional Republicans, who are showing what hypocrites they are. Why is it they never balk at the costs of war, but they immediately label any program (like universal health care) that could help less privileged people as "too expensive"? Voters will see that all the Republicans care about is preserving big profits of big business, and that they don't care how much common individuals suffer.
Phil from Long Beach, California writes:
This will define much of his presidency the way it did during Clinton's first term. Ultimately, Obama and his Socialistic Health Care plan will be monumental failures.
John writes:
Jack, This short-term handicap the Republicans are imposing on Obama is just that, short term. Long term, Obama has much more to lose by not pushing health care reform through. And, with over 60-percent of bankruptcies being caused by health care-related costs, so do we.
Kile writes:
There's nothing wrong with our current system. It provides the best care on the planet. 80-percent of people are satisfied with the care they currently receive. Why scrap a system that has an 80-percent approval rating? Obama is trying to turn us into some sort of socialist utopia and the people are starting to wake up to it.
Lou writes:
Poll after poll shows the majority of Americans want some type of government involvement in health insurance. If passage fails, it isn't Obama that will go down. Republicans need to listen to the voters rather than the big insurance lobbyists on this issue.
Leonard from San Clemente, California writes:
Jack, It's the whole enchilada! If the president fails to pass health care reform then not only will he become the Republicans' pinata, his Main Street Democratic support will most certainly begin to fail. It is amazing to me that a health care option similar to that enjoyed by members of Congress is such a difficult sell to the American People.