FROM CNN's Jack Cafferty:
Almost every state in the nation is hurting financially. More unemployed people along with cuts in consumer spending mean states are collecting a lot less in taxes - and that means bigger and bigger budget shortfalls.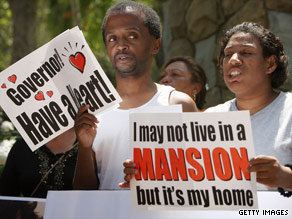 Protesters demonstrate against cuts to social services that aid people with disabilities and the poor at the home of California Gov. Arnold Schwarzenegger.
The Financial Times reports one estimate shows tax collections dropped by almost 12 percent during the first quarter of this year... with 45 of 50 states reporting declines. Early numbers for April and May are even worse - showing declines in tax revenue of almost 20 percent.
Some are also questioning how effective the federal stimulus package has been - if states are spending billions of these stimulus dollars and still can't close budget shortfalls. There are only two choices when it comes to this: either raise taxes or cut expenses.
Many states have made cuts to school districts, health care, programs for the disabled, the prison system and state employees... California has even been issuing IOUs for things like welfare checks.
The bad news is this may not be a temporary situation. These cuts to state budgets may be the new reality going forward... Almost two-thirds of states are projecting budget gaps for 2011... and at least 15 states already foresee gaps as far out as 2012 - when the federal stimulus money will have dried up.
Here's my question to you: What government services are you willing to see reduced or eliminated?
Interested to know which ones made it on air?
Ira writes:
The way to cut spending is to cut the budget for each federal department by a minimum of 10-percent. Every cabinet department needs to bear the burden of that cut. Start by cutting the staff at each agency, including Congressional, Judicial and Executive offices. Cut, cut, cut. The general population has to tighten its belt, so should the federal government.
Remo in Pflugerville, Texas writes:
Jack, Do we need to light up every inch of street, road, and highway? Do we need to cut grass along the highway as well? In my little town, do they really need to collect trash twice a week? Do they need to mow the grass in the park when we are in "extreme drought conditions"? Can't a little common sense be used instead of service overkill?
Karen writes:
Social programs for illegal immigrants in the U.S. don't make sense to me.
Carl in Aurora, Illinois writes:
I would like to see the elimination of farm subsidies and corporate welfare before we start taking services away from those existing on the bottom rung of the ladder.
AC writes:
How about cutting back on mail delivery from six days a week to three? I could do just fine with mail on Mon/Weds/Fri or Tues/Thurs/Sat.
Robert writes:
How about canceling a war or two? There's a service I'd be willing to cut back on – should free up a few hundred billion to give to the states.
J. writes:
Start with the House and Senate. Then work your way out from there.
Nuria writes:
How about the IRS, can we get rid of that?