President Obama has a lot riding on his health care reform plan-and at this point it's too close to call. The president insists the legislation isn't about him or about politics... but rather about a health care system that is breaking America's families, businesses, and economy.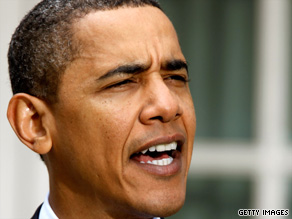 President Obama delivered remarks this morning about health care reform legislation in the Rose Garden at the White House.
Not everyone's buying that argument and the Republicans smell blood.
South Carolina Republican Senator Jim DeMint said that stopping the president's push for health care could be his "Waterloo." Conservative columnist Bill Kristol has urged opponents of the president's plan not "to let up on their criticism."
Republicans are screaming about the costs - pointing to a report by the nonpartisan Congressional Budget Office that these plans won't pay for themselves - and instead will wind up increasing the budget deficit.
The chairman of the Republican Party calls Obama's plan socialism.
And - it seems like the Republicans are gaining traction. Approval of the president's handling of health care is slipping, and Mr. Obama has been forced to take his case directly to the American people - with a prime-time news conference tomorrow followed by a town hall on Thursday.
Health care reform was a major part of the president's campaign platform; and if he doesn't get it through Congress now, it's likely to be much more difficult, if not impossible, to get it done later - once Congress starts pandering to voters for the midterm elections.
Here's my question to you: When it comes to health care reform, how big are the political stakes for President Obama?
Interested to know which ones made it on air?