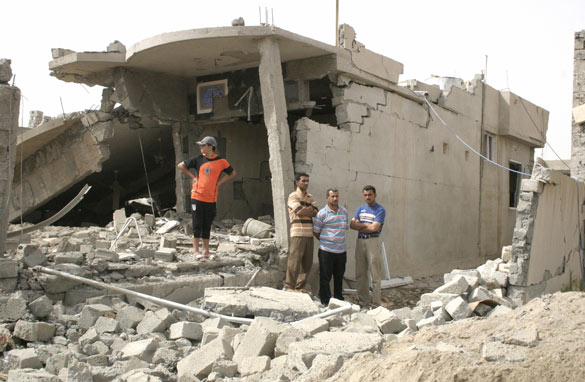 Iraqis stand outside a destroyed building the morning after two car bombs were detonated within minutes of each other on the outskirts of Mosul. Nine people were killed and 22 wounded in the blasts that came just over a week after U.S. forces pulled out of Iraqi towns and cities. (PHOTO CREDIT: MUJAHED MOHAMMED/AFP/Getty Images)
FROM CNN's Jack Cafferty:
This has been a particularly deadly week in Iraq.
Today was the third day of deadly violence in a row. Bomb blasts and even a drive-by shooting have left 75 people dead and more than 200 wounded across the country. This is the worst violence there since U.S. troops pulled back from major cities on June 30th.
It only took one week for the violence to flare up, and some say it was expected. The U.S. military wanted to keep combat troops in Mosul past the deadline for withdrawal but the Iraqi government said no. There would be no exceptions to the security agreement they had with the U.S.
The State Department also raised concerns following the handing over to Iraqi authorities by the U.S. military of five Iranian officials, who have been held since 2007 for allegedly helping Shiite insurgents. They are seen as potential troublemakers.
There are still 130,000 U.S. troops in Iraq but most of them are on bases outside the major cities with only a few assigned in the cities for training Iraqi personnel. All American military forces are scheduled to be out of Iraq by the end of 2011. Then what?
While some Iraqi's are glad to no longer have U.S. troops patrolling their streets, others fear the kind of violence that has reappeared over the past few days.
Here's my question to you: What should the U.S. do if violence continues to escalate in Iraq?
Tune in to the Situation Room at 5pm to see if Jack reads your answer on air.
And, we love to know where you're writing from, so please include your city and state with your comment.