FROM CNN's Jack Cafferty:
There's an old saying: "Payback's a bitch." Supreme Court nominee Sonia Sotomayor ruled against a promotion test for firefighters in New Haven, Connecticut because not enough minorities scored well enough to qualify. Last week the Supreme Court overturned that decision and now it's the firefighters' turn.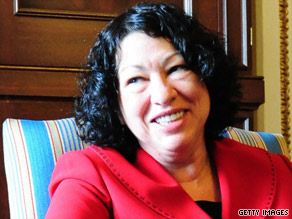 Republicans plan to call two of the firefighters who didn't get promoted to testify during Sotomayor's confirmation hearings next week. The white one who originally claimed reverse discrimination, and the lone Puerto Rican one who joined the lawsuit and incidentally scored very well on the test.
This will make equal opportunity the focus of, at least, part of the confirmation hearings and will no doubt serve as a source of some embarrassment to the nominee. The hope is to establish that appellate judges may be influenced by personal and political views such as a belief in racial preferences for minorities.
The GOP also has 12 other witnesses on their list. It should be standing room only.
Democrats are planning to call 15 witnesses, many of them Republicans, in hopes of defending critics and convincing the 19 member judiciary committee that Sotomayor is a mainstream judge worthy of becoming the first Hispanic and third woman to be seated on the high court.
Here's my question to you: Can firefighters from New Haven, Connecticut, derail Sonia Sotomayor's Supreme Court nomination?
Interested to know which ones made it on air?
Ryan from Redmond, Washington writes:
I hope so, Jack. A racist is a racist, no matter what the color of her skin.
Rick from Medina, Ohio writes:
The genius of our Founding Fathers really comes through on this issue. There is a reason the Supreme Court consists of nine Justices. No one judge possesses the wisdom to be correct every time. Four justices agreed with Ms. Sotomayor on this case, five did not, and the process performed as envisioned 233 years ago. Judge Sotomayor should be confirmed based on the totality of her record. I do not believe this circus the GOP has planned for her will be decisive.
Pal from Chicago, Illinois writes:
The broader question is how we implement affirmative action. Those New Haven, Connecticut fire fighters topped the exam and should have been given the promotion. We should be a colorblind society that prides itself in the values of hard work.
Jane from Minnesota writes:
I don't think so. You would think by listening to the Republican right that she acted alone in judging this appeal. I'm pretty sure that other current Justices sitting on the High Court have had decisions overturned also.
Mike from Syracuse, New York writes:
Let's hope so. Anyone who can't see that minorities had the same opportunity to score well shouldn't be on the Court. It's called equal opportunity, not equal capability.
James from Anaheim, California writes:
I honestly believe they (the New Haven firefighters) can and they can do it without saying a word.