FROM CNN's Jack Cafferty:
At some point it will become President Obama and the Democrats' recession, not George W. Bush's. If the economy doesn't start to show signs of picking up, Democrats could feel the voters' anger in next year's mid-term elections.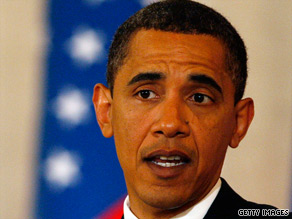 President Obama is traveling a path not unlike the one President Ronald Reagan once traveled and, as my colleague Christine Romans points out, the Democrats could learn something from President Reagan's experience. Both Presidents were wildly popular early on, but unemployment was rising.
In the 1982 elections Reagan's Republican Party lost 26 seats and experts say the scale was tipped when unemployment hit 10-percent. President Obama currently faces a 9.5-percent unemployment rate and now says 10-percent is likely before the year is over. Renowned investor Warren Buffet said this morning on Good Morning America that unemployment could hit 11-percent.
It seems everyone knows someone who has lost their job. While the Obama Administration is busy pointing the finger at Bush, those unemployed Americans who can't find a job will likely be tempted to take it out on whoever is in power when they vote next fall. What remains to be seen is if voters are ready to start returning Republicans to power so soon after the Bush Administration.
Here's my question to you: Will the voters blame the Democrats for our economic problems in next year's election?
Interested to know which ones made it on air?
Bob from Kansas writes:
Yes. While I am a Democrat, I will surely blame my Party and my President if they do not utilize this political opportunity that has been given to them by the many populist voters in this past election. Many voters believe that there is really no difference between Democrats and Republicans. The current Democrats are proving the truth of such a generalization.
Willow from Iowa writes:
If things don't start to change, we could be calling my town, Hooverville. Of course, he'll be blamed if things don't improve. That's why we elected him. Unemployment is slowly dropping in Iowa, I read in the paper yesterday. June was much lower than January. So there's hope.
S. from in Palm Bay, Florida writes:
It depends on what happens the month, the week, the day before the vote. I'm patiently awaiting the Democrats passing health care reform of some sort. If they do not succeed, I see trouble for them in 2010.
Jose from McAllen, Texas writes:
Let's not forget that in 2010, the Democrats will have been in power for 4 years. They hold the majority in Congress and it's time they start taking some responsibility for their actions and bad decisions. How long can they keep blaming President Bush for all of their bone-headed ideas and drunken spending? Also, there aren't enough Republicans in Congress to block any piece of bad legislation the Democrats want to ram down our throats.
Mark from Arkansas writes:
By 2010, the era of "George" will be forgotten. Even if the recession starts a recovery, the negative affects will be here a long time. Yes, a lot of the mud will fall on Democrats, because the ones in power are always to blame. It's always been that way.
Andy writes:
Unless the President or Vice President go Republican and have affairs with women, the Democratic Party is in good shape. Americans are much smarter than the Party leadership would ever believe. The only reason the Republican Party still exists is that no one wants a one Party system. We had that during the last administration.