Here's my question to you:
It is perhaps the centerpiece of President Obama's agenda for his first term in office. Reform the nation's health care system before it bankrupts the country. It also comes with a hefty, as yet undetermined, price tag which has been estimated as high as $1 trillion.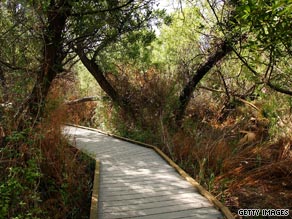 With all of the negotiating over who should be taxed and what provisions will stay or go, the plan to provide better health care for all Americans is also adding up to billions of dollars in what's being called health infrastructure. This infrastructure includes things like walking paths, streetlights, jungle gyms and even farmers markets.
Some suggest a better name would be pork...
Advocates, including Massachusetts Senator Edward Kennedy, say this is all needed to promote healthier lifestyles and cut medical spending down the road with lower obesity rates, less heart disease and other health problems.
Critics, including Wyoming Senator Mike Enzi, say this is pork and these are simply public works projects in disguise that don't belong in this bill.
The way it stands, local and state governments will have to submit proposals for the projects and Secretary of Health and Human Services, Kathleen Sebelius, would have the final say. Can you imagine the potential bottleneck?
This is far from a done deal. But with an eye toward next year's midterm elections, it's never too early for the folks in Congress to think about keeping their constituents happy.
Here's my question to you: Should health care legislation contain billions of dollars for parks, walking paths and farmers markets?
Interested to know which ones made it on air?
Martin from Shoreline, Washington writes:
Are liberals ever going to wake up? They tend to be more educated than conservatives, so why are they so stupid? This is the kind of spending that gets them removed from power every time. Democrats could rule for decades if they wanted to. But when they use taxes to steal from one group and give to another, American voters throw them out of office.
Jill writes:
Yes. Weight management and good nutrition are critical components of health. Walking has one of the lowest drop out rates of any exercise program. Farmers markets provide access to fruits and vegetables that may not be readily accessible in many inner city stores. Together, they provide an integral part of health management thereby keeping the nation's health care costs lower.
James from Chuckey, Tennessee writes:
The push to reform health care should focus on making quality health care affordable to all citizens, not building parks, playgrounds and fitness centers. Send the lobbyists home and let the Congress work for the people who actually voted for them instead of the corporations with the most money to spend circumventing the intent of the law. If we find a need for such infrastructure, there are a lot of unemployed folks who might be happy to have some honest work in a CCC type program. That's supposedly what the stimulus package was designed to do.
Agnes from Scottsdale, Arizona writes:
Jack: I don't think the concept of public works projects in support of health reform is such a bad idea. Back in the Depression of the 1930s, a number of parks and recreational projects were built in New York City and Long Island which people are enjoying to this day. We say we're concerned about children; maybe they will be healthier if they had well designed recreational areas to play in. Is that so bad?
Alex from Seattle, Washington writes:
Please focus on health care! I go to the VA for health care and the government bureaucrats do a fine job of getting me the care I need. On the other hand, I just paid $1,300 for anesthesia for my step-son's wisdom teeth removal. Evidently, my wife's health insurance plan considers anesthesia a luxury while removing impacted wisdom teeth.