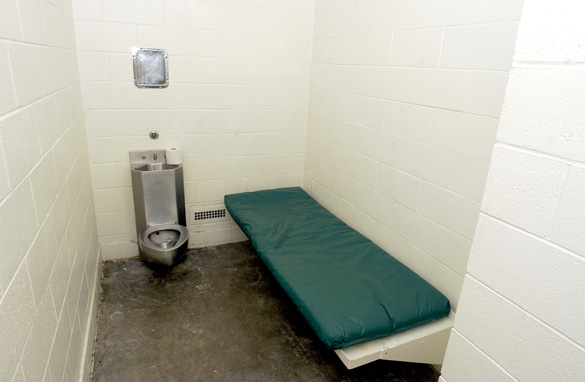 (PHOTO CREDIT: GETTY IMAGES)
FROM CNN's Jack Cafferty:
No doubt, tough economic times call for tough decisions and some thinking outside the box.
So in an effort to relieve budget woes, the Governor of Illinois is proposing the early release of up to 10,000 prisoners. The move would reportedly save taxpayers $125 million a year and result in layoffs for 1,000 corrections employees.
It would also put thousands of convicts on the streets. But have no fear, officials say it would only be those deemed by the state as non-threatening, who have less than a year left to serve.
Critics say it's just a scheme by the Governor to scare people into supporting an increase in income tax. But Illinois isn't the only state to consider such a move. Governor Arnold Schwarzenegger made a similar proposal in California to save that state $180 million by releasing undocumented inmates, among others.
In the past, Mississippi, Rhode Island and Kentucky have considered such plans too, and Mississippi is actually doing it.
Critics argue that public safety isn't the place to slash the budget. Then there is also the issue of whether or not a Governor has the authority to release thousands of inmates whose sentences were imposed by a judge after they were convicted in a court of law.
Here's my question to you: Is releasing prisoners early a good way for states to save money?
Interested to know which ones made it on air?
Tom from Dubuque, Iowa writes:
Jack, it may be a good way to save money short term, but long term not a good idea. If they are thinking about the non violent offender, then fine, ask the people of North and South Carolina given the events of last week. Five people dead because a career criminal was released before he should have been. How's that for saving money?
Ryan from Connecticut writes:
Absolutely not, they already have it too good. Some may argue they have it better then some Americans: 3 meals prepared for them everyday, great health care, cable TV, internet, state of the art gyms, and free education. If you want to save money, take all those privileges away. I mean, it is prison.
David from San Diego, California writes:
There are low-risk, non-violent prisoners who should never have been imprisoned in the first place. If it takes a financial crisis to reduce the unfairness in drug-offense sentencing, etc. then it hasn't been all bad.
C. from Birmingham, Alabama writes:
No. Releasing convicted felons will cost the states money when they commit crimes again and they must be put through the justice system again and tried again. The rate of recidivism is far too high to even entertain this option.
Jay writes:
Is this the same Illinois state government that had dozens of innocent people on Death Row, was too incompetent to figure out they were not guilty, and looked dumb when some students did some research and exonerated these men and saved their lives? These are the same folks we are to trust to determine which prisoners are 'safe' to release to save a few bucks? I wonder how many rapists and child molesters will 'slip through the cracks', as the spin doctors will inevitably say when some guy they release kills someone.
Mack from Michigan writes:
No it's not a good way for the states to save money, but it's a great way for the states to justify stuffing another tax hike down our throats. What better public relations could there be for hiking taxes than turning felons loose on the streets or cutting off medical care for poor children? This is government arm twisting at its worst!