Here's my question to you:
It is perhaps the centerpiece of President Obama's agenda for his first term in office. Reform the nation's health care system before it bankrupts the country. It also comes with a hefty, as yet undetermined, price tag which has been estimated as high as $1 trillion.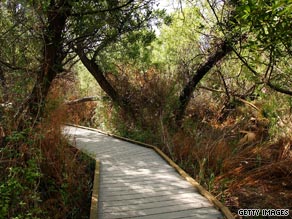 With all of the negotiating over who should be taxed and what provisions will stay or go, the plan to provide better health care for all Americans is also adding up to billions of dollars in what's being called health infrastructure. This infrastructure includes things like walking paths, streetlights, jungle gyms and even farmers markets.
Some suggest a better name would be pork...
Advocates, including Massachusetts Senator Edward Kennedy, say this is all needed to promote healthier lifestyles and cut medical spending down the road with lower obesity rates, less heart disease and other health problems.
Critics, including Wyoming Senator Mike Enzi, say this is pork and these are simply public works projects in disguise that don't belong in this bill.
The way it stands, local and state governments will have to submit proposals for the projects and Secretary of Health and Human Services, Kathleen Sebelius, would have the final say. Can you imagine the potential bottleneck?
This is far from a done deal. But with an eye toward next year's midterm elections, it's never too early for the folks in Congress to think about keeping their constituents happy.
Here's my question to you: Should health care legislation contain billions of dollars for parks, walking paths and farmers markets?
Interested to know which ones made it on air?