FROM CNN's Jack Cafferty:
An outside adviser to President Obama says the U.S. should consider a second stimulus package because the $787 billion package approved in February was "a bit too small." Others have criticized the plan for not distributing the money fast enough to create the jobs necessary to halt the downward spiral we seem to be in.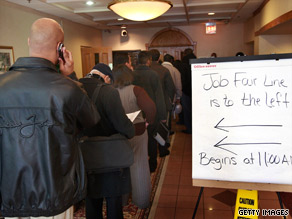 Job seekers wait in line to speak with prospective employers at a job fair .The number of U.S. workers filing new claims for unemployment benefits is at a 26-year high.
On Capitol Hill, House Majority Leader Steny Hoyer said he'd consider a second stimulus but emphasized that it's too soon to say the first stimulus package has failed.
A look at a few facts would suggest it has been less than a screaming success. The economy is still struggling, mired in recession that shows few signs of abating. Last week's jobs report found unemployment is still climbing and experts expect it will surpass 10-percent this year, even though the stimulus bill was supposed to hold it below eight percent.
Yesterday the stock market hit a 10-week low, so confidence is clearly still lacking among investors. And all that optimism over perceived "green shoots" of recovery that were touted just a few weeks ago has all but disappeared along with a lot of the "shoots."
Advisers in and out of Washington agree on one thing: the stimulus bill was based in an economy that was not as bad the one we're in now.
Here's my question to you: Should the government consider a second stimulus package?
Interested to know which ones made it on air?
Joy writes:
It would be a bitter pill, to add even more to the deficit. I am so frustrated that people that I know are desperate for a job. I never see anything on the news media about the jobs people are getting because of the stimulus package. How can we know if it's doing any good?
Sheree writes:
Yes, but only if it goes directly into the hands of working people and very small businesses to help subsidize college education, mortgage refinancing, funds for upgrading homes with energy savings, etc.
Mohamed writes:
Before doing this for the nth time, can we prove correlation between stimulus and jobs. Tax breaks for manufacturing industry, targeted tariff protection and import restrictions could be a better idea.
John from Virginia writes:
Why? They haven't even spent a tenth of the money allocated in the last one they passed. I smell a rat. Either this administration doesn't know what it is doing or it knows exactly what it's doing. And that scares the hell out of me.
Lee writes:
Absolutely not. The more the government monetizes debt, the more inflation climbs, and the harder it is for the economy to recover. The federal and most state governments are drowning in debt as is.
Fred writes:
The government should have not passed the first stimulus package. The second would be more "pork" to re-elect the same corrupt Congress members.