FROM CNN's Jack Cafferty:
As quickly as Sarah Palin announced she was quitting her job as Governor of Alaska in the middle of her term, the airwaves were filled with pundits eager to pronounce her political career dead in the water. Even Rush Limbaugh was stumped. Which doesn't happen often.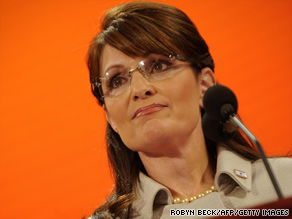 Yesterday on this show Democratic strategist Paul Begala said: "Her defenders will say, she's crazy like a fox. I think they're half right. The notion that she would look [CNN's] Drew [Griffin] in the eye and say, I'm not a quitter as she's quitting. She is either delusional or disingenuous."
But a look at some new poll numbers suggests it might be a bit early to plan Palin's memorial service. A new Gallup poll found 43-percent of Americans say they are very likely or somewhat likely to vote for her for President. In fact, 70-percent of those surveyed said Palin's decision to resign had no effect on their opinion of her at all. Go figure.
The poll also found 53-percent think the media coverage of Palin's decision to quit her job as governor in the middle of her first term has been unfairly negative.
Sarah Palin may in fact have more options than her detractors give her credit for. That same poll shows 70-percent of Republicans said they would vote for Palin for president. If that seems a little lopsided it's probably because most of the rest of the front runners in the Republican Party have misstepped so much that she and Mitt Romney are about all that's left.
Here's my question to you: Have your views of Sarah Palin changed since she announced she's quitting her job as Governor?
Interested to know which ones made it on air?
Michelle writes:
As a Democrat I have a more positive view of Palin since her resignation speech. She is articulate, intelligent, bold, and independent. Media is hard on her and soft on Obama, who has accomplished little.
Lisa from Ashford, Alabama writes:
My opinion of Sarah Palin hasn't changed. She's half Baked Alaska. She couldn't stand the heat so she got out of the kitchen. If she was Vice President now, could you imagine the scrutiny she and her "foible prone" family would be under? I'd dare to guess she might quit that job too based on her reasons for quitting her Governorship.
Barbara from Coral Springs, Florida writes:
Absolutely, now she is free to help the Republican Party raise money and campaign for the upcoming elections. I think she saw the need to not wait till 2012 to change the direction the country is going.
Paul writes:
Governor Palin's surprise announcement didn't change my opinion at all. This "nut case" is as dangerous to the future of the Republicans, as Nancy Pelosi is to the future of the Democrats. What worries me is the stupidity of the electorate to have voted in either of these idiots? In the case of Sarah Palin, you just know there is a nice juicy scandal on the way.
Phil writes:
My views haven't changed. I admire her courage and willingness to stand up to the constant attacks from the media and the left. If I were living in Alaska, I wouldn't like that the Government was constantly being distracted with all of the frivolous 'Ethics Violations'. Her stepping aside just shows she cares. What is it about her that scares you people so much?
Betty from Texas writes:
Yes, my view of her has changed. Although I didn't agree with her, I thought she was a strong woman and a fighter. Her resignation reveals a thin-skinned prima donna and a quitter. The idea that so many people would vote for her for President is frightening. If elected, would she resign mid-term if the going got rough?
Jim from Willowick, Ohio writes:
Jack, from my view I still can't see Russia nor can I see why an entire state would have elected such a whiner to begin with. Makes me proud to be an Ohioan.