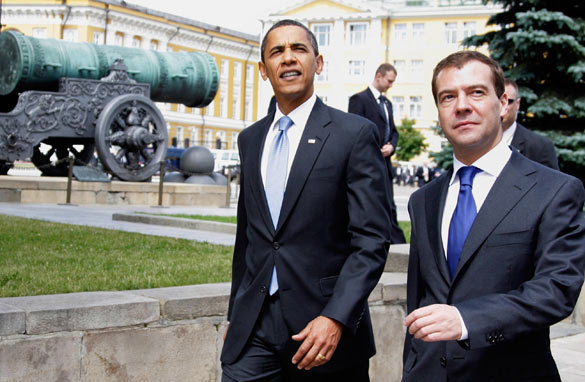 President Obama and Russian President Dmitry Medvedev walk by the Czar Cannon in the territory of the Kremlin. (PHOTO CREDIT: DMITRY ASTAKHOV/AFP/GETTY IMAGES)
FROM CNN's Jack Cafferty:
President Obama is in Moscow for meetings with Russian President Dmitry Medvedev and Prime Minister Vladimir Putin in an effort to smooth things over between the two countries. It's the latest example of President Obama trying to extinguish the flames of something former president George W. Bush left burning.
In a press conference today, President Obama said a strong Russia is good for the U.S. and spoke of a deep rooted respect Americans have for the Russian people.
Depends on who you ask. According to a Gallup Poll, Americans don't feel much like cozying up to Russia. 53-percent of Americans view Russia unfavorably, the highest it's been in nine years.
Russians aren't in love with Americans either - at least not with our leaders. 34-percent of Russians disapprove of U.S. leadership, which is lower than it's been in previous years. But it's worth noting that many Russians said they are still undecided about their opinion of U.S. leadership under President Obama.
And it's actually better than it was 10-years ago during the unrest in 1999 before Boris Yeltsin conceded power to Putin. Then Russians' opinion of American leadership was at an all time low.
Here's my question to you: How important are better relations between the U.S. and Russia?
Interested to know which ones made it on air?
John from Santa Barbara, California writes:
Very, if we expect to defeat China in the next war.
Storm from Fennville, Michigan writes:
Better relations between the U.S. and any other country would be wonderful but the Russians really need to show us proof that we can trust them and we need to do the same for them. Both of our countries have a history of saying one thing and doing something completely different.
Billy from Las Vegas, Nevada writes:
Considering that both the U.S. and Russia have enough nuclear weapons and other WMDs to destroy the world ten times over, I definitely want both countries to be best friends forever.
Matty writes:
Jack, I don't sweat the Russians, they're almost as broke as this country is. I also don't harbor any ill will against the Russian people, it's the Russian Government. I don't want to deal with. I think the Russian people would cozy up to the American people in a heartbeat if they were given a chance to.
Mary from Georgia writes:
Very important. It makes no sense to alienate another super power with all the threats around the world. The fewer enemies we have, the better.
Joanne from Phoenix, Arizona writes:
I have a new Russian daughter-in-law. I found that changing my attitude has been essential to keep peace in the family.