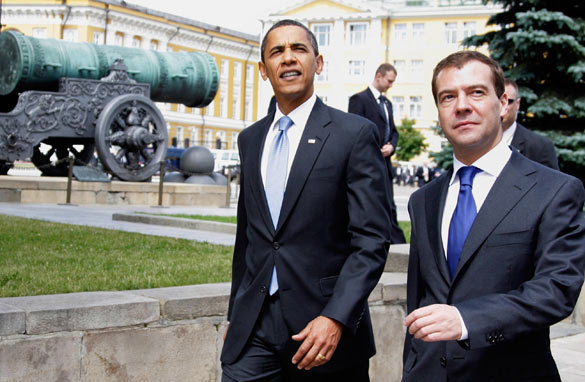 President Obama and Russian President Dmitry Medvedev walk by the Czar Cannon in the territory of the Kremlin. (PHOTO CREDIT: DMITRY ASTAKHOV/AFP/GETTY IMAGES)
FROM CNN's Jack Cafferty:
President Obama is in Moscow for meetings with Russian President Dmitry Medvedev and Prime Minister Vladimir Putin in an effort to smooth things over between the two countries. It's the latest example of President Obama trying to extinguish the flames of something former president George W. Bush left burning.
In a press conference today, President Obama said a strong Russia is good for the U.S. and spoke of a deep rooted respect Americans have for the Russian people.
Depends on who you ask. According to a Gallup Poll, Americans don't feel much like cozying up to Russia. 53-percent of Americans view Russia unfavorably, the highest it's been in nine years.
Russians aren't in love with Americans either - at least not with our leaders. 34-percent of Russians disapprove of U.S. leadership, which is lower than it's been in previous years. But it's worth noting that many Russians said they are still undecided about their opinion of U.S. leadership under President Obama.
And it's actually better than it was 10-years ago during the unrest in 1999 before Boris Yeltsin conceded power to Putin. Then Russians' opinion of American leadership was at an all time low.
Here's my question to you: How important are better relations between the U.S. and Russia?
Interested to know which ones made it on air?