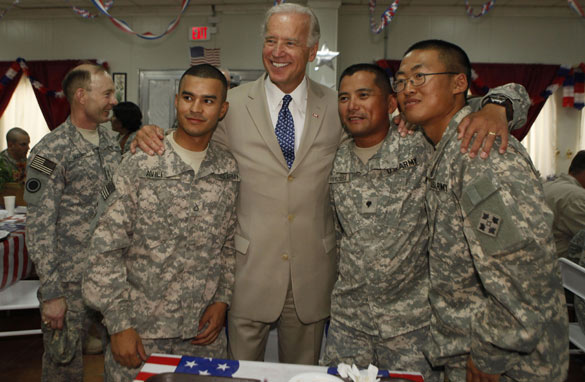 Vice Pres. Biden poses for a photo with U.S. soldiers at Camp Victory on the outskirts of Baghdad on the Fourth of July. (PHOTO CREDIT: KHALID MOHAMMED/AFP/GETTY IMAGES)
FROM CNN's Jack Cafferty:
There is some question whether Vice President Joe Biden did it again. Over the weekend, Biden said that the U.S. would not stand in the way if Israel attacks Iran's nuclear facilities. Some say this signals a change in U.S. policy - drawing a harder line against Iran.
But the White House said the statement simply maintains what they've always said: That Israel has the right to defend itself.
The Vice President also said that the U.S. remains willing to negotiate with Iran, in spite of the recent violence that erupted in the wake of the contested re-election of President Mahmoud Ahmadinejad.
In May, Israeli Prime Minister Benjamin Netanyahu met with President Obama and said he'd wait it out for the rest of this year to see if Iran is willing to talk. When asked if this was the right approach, Vice President Biden did not say whether or not the U.S. agrees with the position, but did say: "Israel can determine for itself - it's a sovereign nation; what's in their interest and what they decide to do relative to Iran and anyone else."
Here's my question to you: Vice President Biden said Israel is free to set its own course on Iran. What does this mean?
Interested to know which ones made it on air?