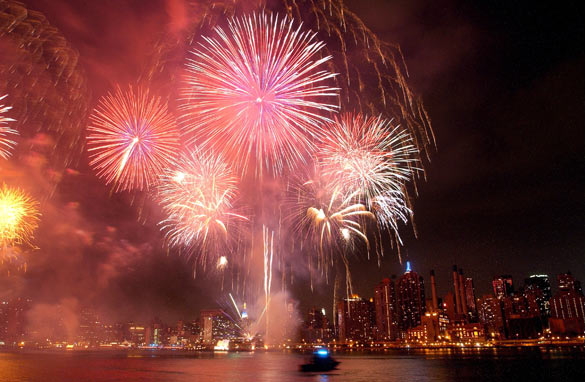 (PHOTO CREDIT: Spencer Platt/Getty Images)
FROM CNN's Jack Cafferty:
As millions of Americans get ready for the July 4th holiday weekend, some more dreary news on the job front.
The government reported another 467,000 jobs were lost in June - far worse than forecast and the first time in four months that the number of jobs lost went up.
The unemployment rate - now at 9.5 percent - has gone up for nine straight months and sits at a 26-year high. One expert describes these numbers as not catastrophic... but "still pretty damn lousy."
As the recession drags on, a new Gallup poll shows 71-percent of Americans say they have cut back spending... while 88-percent say they're watching spending very closely. This is despite the fact that 78-percent of those surveyed say they have enough money to buy only what they need.
21-percent say they worried "yesterday" about spending too much.
Gallup suggests these results show Americans may have reached a "new normal" of spending less and that frugality may become a permanent part of the national fabric.
In the wake of the recession, they also looked at Americans' drinking habits, and found the percentage of adults who drink alcohol has stayed fairly steady at 64-percent. There are no major changes reported in how much drinkers drink - and their preferred drink is still beer.
It's a problem. The recession may very well give people more reasons to drink - but they have less money to do it with.
Here's my question to you: In light of the recession, how will this July Fourth celebration differ from years past?
Interested to know which ones made it on air?
David from Tampa, Florida writes:
I'm 60 years old and my July 4th will be much the same as it has been for many years: I will go watch neighborhood fireworks and reflect on life, liberty and wishing I had the money to pursue some happiness. I will be grateful for those things I have – a home, a tank of gas and mostly good health. In these troubled times it is best to try to look for the good in things while being realistic about that which isn't so good.
Jim from Hoffman Estates, Illinois writes:
Jack, The Fourth of July holiday and celebration should be done away with. This is no longer a democracy and has not been one for some time. We no longer have any real representation or say in our government. Special interest groups, lobbyists and political power rule, not the people.
Affy from California writes:
I don't think it will be that different, Jack. If there's one thing we Americans are good at, it's wasting our money on food and entertainment. I'm expecting a line at the movies.
Larry from Chicago writes:
I spent $100 less on illegal fireworks for this 4th and will be BBQing hamburgers instead of steak. Other than that, everything will be pretty much the same. I'm one of the lucky ones who hasn't been laid off - yet.
Willow from Iowa writes:
It will be the same as always for me. I live in a very small town. We have a carnival with a petting zoo, food and soda to buy, and the fireworks start at dark.
Terri writes:
I am a registered nurse in the E.R., Jack, and I will be taking care of those who consume too much alcohol and think they can drive, bicycle, boat, walk and light BBQs. I have job security!
Perry writes:
We are going to make a piñata of a liberal (but this year we are thinking of using a newscaster), fill it with nothing and then we will beat the crap out of it.