FROM CNN's Jack Cafferty:
They didn't call it the Wild, Wild West for nothing... and in a giant step backwards in time, guns may soon be allowed in Arizona bars. The state Senate has passed a bill that would let people with concealed weapons permits carry a gun into businesses that serve alcohol.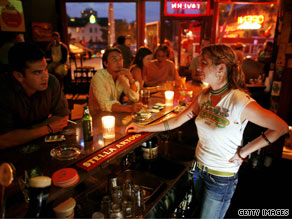 The measure now goes to Republican Governor Jan Brewer - who hasn't said if she'll sign it, but is a long-time supporter of gun rights.
Critics say guns and alcohol are a dangerous combination. Really? Some restaurant and bar owners are worried it would jeopardize public safety, increase employer liability and hurt tourism. They think the bill will in essence turn the clock back to the days of the Wild West.
One Democratic lawmaker who voted against the measure says: "We don't let people drink and drive, why should we let them drink and carry guns?"
But supporters insist they should be able to protect themselves regardless of where they are. One of the bill's sponsors says the most important thing is that people carrying guns into bars aren't allowed to drink. Fine, but if the gun is concealed, how do you know who has a weapon, and who doesn't? And by the time you find out... it might be too late.
The National Rifle Association says 40 states have similar laws and insists it's just common sense since criminal activity happens everywhere.
Here's my question to you: Is it a good idea to allow guns in bars?
Interested to know which ones made it on air?
Roy writes:
Uh, no! Alcohol, guns, and men competing for the attention of women, what could possibly go wrong? Anybody who thinks this is a good idea has been standing out in the Arizona sun without a hat for too long!
Randy from Salt Lake City, Utah writes:
Yeah, sure. Instead of drunks getting into brawls with other drunks and then staggering to their trucks to go home and beat their wife (and potentially plow their trucks into a family of four, thus killing them), they'll just shoot they guy who said the Steelers sucked.
Lynn from Columbia, Missouri writes:
It's about as good an idea as allowing them in national parks. I think they're trying to lower the census before 2010.
Guy writes:
Yes. Criminals do not discriminate on where they carry a weapon, most don't even get a permit. So why should law-abiding citizens, such as those who get a permit, be prevented from protecting themselves?
George writes:
Florida has allowed people to eat and drink in restaurants since 1987 while carrying concealed guns. It has not been an issue for the 575,000 people who have permits in Florida, or the millions of people who come to Florida from the 32 states that have reciprocity for their permits.
Gregory from Miami Beach, Florida writes:
A lot more violence happens in bars than you really know about, not to mention what happens in households when some of the drinkers get home. If you wouldn't put car keys in a drinker's hands, then why you put a gun in them?
Sandy from Sunnyvale, California writes:
No, guns should not be allowed in bars with one exception: karaoke bars.
Don from Newtown, Pennsylvania writes:
Jack, Be careful if you order a shot in a Scottsdale watering hole.