FROM CNN's Jack Cafferty:
When it comes to the 18-month-long recession, we're not out of the woods quite yet. Consumer confidence took an unexpected and steep drop in the month of June.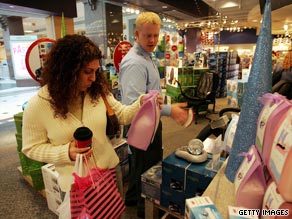 This is a big deal because consumer spending makes up more than two-thirds of our economy. And it means Americans don't feel so optimistic about their current financial situation or about what's to come.
Some think the rising price of gasoline is part of the reason for this decline, with consumers feeling pinched at the pump once again.
One expert tells Reuters that the confidence data "kind of took the wind out of things a little bit." Investors had been expecting consumer confidence to hold steady this month - following big jumps in April and May. For months, we've been seeing economic data that suggests the recession isn't getting worse; but investors want to see signs that the economy is actually growing.
Meanwhile the unemployment rate - which is already at a 25-year high of 9.4 percent - is expected to increase again for the month of June. And perhaps reach 10-percent later this year. If that's the case, it seems unlikely consumer spending will pick up significantly any time soon.
Here's my question to you: What caused an unexpected, steep drop in consumer confidence?
Interested to know which ones made it on air?
Mark from Arkansas writes:
Jack, Come out of your ivory tower and go walk the streets. See the unemployed workers, see the restaurants that are closing up, see the small businesses that are laying off people, see the retailers closing shops. Look around. How many "confident consumers" do you really see?
Ben writes:
The fact that people are starting to realize the only thing Obama is good at is talking and spending money.
Geoff writes:
I had confidence until May when I was laid off. Now I'm struggling to pay my rent and bills. No other companies in my industry are hiring in Southern California. So my confidence fell off a cliff and I'm not sure when it will come back.
Alyssa writes:
The reason why consumer confidence has dropped so much is because people are starting to value other things besides buying. They're spending time with their families or planning for their futures. I know I ask myself if I really need something or if the money could instead be put in my savings account.
Mike from Spring, Texas writes:
The constant 24-hour bombardment of negative news has caused the consumer to reduce spending. Why not report on the 91% of Americans with jobs, and not obsess on the 9% without?
David from San Diego writes:
Duh, rising gasoline prices? Consumer sentiment is fickle. It will go up and down before a clear change for the positive takes hold. Not to worry, help is on the way!
Melissa writes:
It's summer. People realized that they still don't have the money to go on vacation because they had extremely unrealistic expectations of what the stimulus from both Bush and Obama would do for them. That's bound to be a bummer for anyone.
William writes:
To put it kindly, the economy is still in the toilet.