FROM CNN's Jack Cafferty:
The events surrounding Michael Jackson's death continue to become more bizarre every day - not unlike his life. On Friday - eight days after he died - they will lay out the King of Pop's body for a public viewing at Neverland Ranch.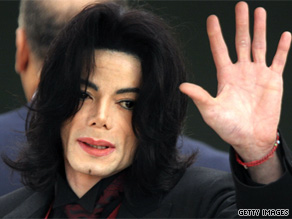 It was initially reported that on Friday - 8 days after he died - Jackson's body would be on public display at Neverland Ranch. But this afternoon the family announced that's not happening and instead they say they're working on plans for a public memorial.
There are plans for a 30-car motorcade to carry Jackson's remains from Los Angeles to Santa Barbara County tomorrow. And, the family has a private service planned for Sunday. The mayor of Gary, Indiana - where Jackson was born - is trying to get Jackson's body sent there for burial.
Meanwhile here in New York, thousands of fans lined the streets of Harlem yesterday to be let inside the Apollo Theater - 600 at a time - to pay tribute to Jackson. Reverend Al Sharpton eulogized Jackson before showing off his own dance moves - which included him grinding with one fan on stage.
Then there are those weird interviews with Joe Jackson - Michael's father– in which he plugs his new record label after being asked about the death of his son.
All this makes it seem like those with a vested interest in making money off Jackson's passing are doing their best to keep the story going and milk it for every last nickel - just like the bloodsuckers around him did when he was alive.
And it's working: Jackson's music has shot back to the top of the charts since his death.
Here's my question to you: Are the events surrounding Michael Jackson's death beginning to resemble his life?
Interested to know which ones made it on air?
Janel from Fredonia, New York writes:
Watching the circus that has surrounded Jackson's death should give us a little insight into the chaos his life must have been. Surrounded by sycophants who drowned out the few voices of reason regarding his health and others who trampled over those who truly cared about him, everyday life must have been difficult, to put it mildly. The sick obsession the American public has been demonstrating doesn't say much good about us either.
Terry from North Carolina writes:
Jack, You're right on the money with this one: every day it seems to get more weird than the day before, another story breaks that defines what this kid was all about and the personal mess he left behind. One can only imagine the hell that these three children will go through while all the people that didn't care about Michael go about trying to get their hands on what he left behind.
John from Canada writes:
Oh Jack, you had to ask. Just reflect on his father's emergence with his hand out, the family's second autopsy, news about his kids' genetic realities and even the controversy over the 911 calls and the attending physician's actions. I'll bet the farm that we ain't seen nothing yet. You and Wolf just hold on to your hats and pass on the weirdness as it happens.
Cathy from Austin, Texas writes:
I don't know about that, but the more coverage I watch the more I am filled with sympathy for Michael Jackson. I mean, bless his heart, it's obvious that his own father views him as an investment, not as a person, much less as his own child. No wonder Michael kept having plastic surgery to erase all traces of his father from his own face.
Jennifer writes:
Beginning? Jackson – boy, teen, adult, in court, and now in death – has been exploited through it all by family, friends, enemies and media. Anything to make a buck. Unconscionable.