FROM CNN's Jack Cafferty:
The events surrounding Michael Jackson's death continue to become more bizarre every day - not unlike his life. On Friday - eight days after he died - they will lay out the King of Pop's body for a public viewing at Neverland Ranch.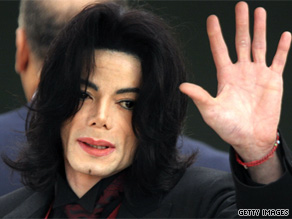 It was initially reported that on Friday - 8 days after he died - Jackson's body would be on public display at Neverland Ranch. But this afternoon the family announced that's not happening and instead they say they're working on plans for a public memorial.
There are plans for a 30-car motorcade to carry Jackson's remains from Los Angeles to Santa Barbara County tomorrow. And, the family has a private service planned for Sunday. The mayor of Gary, Indiana - where Jackson was born - is trying to get Jackson's body sent there for burial.
Meanwhile here in New York, thousands of fans lined the streets of Harlem yesterday to be let inside the Apollo Theater - 600 at a time - to pay tribute to Jackson. Reverend Al Sharpton eulogized Jackson before showing off his own dance moves - which included him grinding with one fan on stage.
Then there are those weird interviews with Joe Jackson - Michael's father– in which he plugs his new record label after being asked about the death of his son.
All this makes it seem like those with a vested interest in making money off Jackson's passing are doing their best to keep the story going and milk it for every last nickel - just like the bloodsuckers around him did when he was alive.
And it's working: Jackson's music has shot back to the top of the charts since his death.
Here's my question to you: Are the events surrounding Michael Jackson's death beginning to resemble his life?
Interested to know which ones made it on air?