FROM CNN's Jack Cafferty:
Critics of Judge Sonia Sotomayor have some new ammunition... now that the Supreme Court has ruled in favor of a group of white firefighters claiming reverse discrimination in New Haven, Connecticut.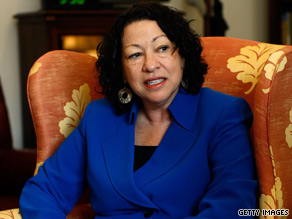 The high court said New Haven was wrong to scrap a promotion exam because no blacks and only two Hispanic firefighters would have been promoted. It's a case that could change employment practices around the country... and make it harder to prove discrimination.
And it's a bit of an embarrassment for the White House - since President Obama's Supreme Court nominee had earlier ruled against these firefighters.
All this comes just two weeks before Sotomayor's Senate confirmation hearings... Republicans say the Supreme Court's decision raises issues about her ability to serve on the high court... they say they'll use this ruling, along with her 2001 comment about a "wise Latina woman" to question her views on discrimination.
But supporters of Sotomayor say the ruling actually proves her restraint and unwillingness to go beyond established precedents... that's because the panel on which she sat upheld a district court judge in the case. The Supreme Court's five-to-four ruling also gives the justice cover.
The White House insists there's "little political significance" to the court's decision when it comes to Sotomayor. I guess we'll see in two weeks.
Here's my question to you: How will the Supreme Court's reversal of a decision by Sonia Sotomayor affect her chances of confirmation?
Interested to know which ones made it on air?
David from Alexandria, Virginia writes:
I hope that this will provide some allowance for senators on both sides of the aisle to examine the basis for her decision, one which the SCOTUS seemed to feel gave an almost cursory glance on a critical and increasingly complex issue – an issue that will come up more frequently in the years ahead.
Ann from Sulphur, Louisiana writes:
Considering that four justices agreed with her decision, those who would use this to try to keep her off the court will have a hard time. She should still be confirmed.
Richard writes:
This will not affect her confirmation. Short of a major scandal involving a celebrity, the confirmation process will move forward with people aligned on the right or the left as always. Towing the party line is more important to Americans than independent thought and the analysis of a legal career.
Martin from Shoreline, Washington writes:
It will likely result in more intensive questioning about her racist and sexist views, but I doubt it will derail her nomination. Liberals think it is perfectly ok to discriminate against white males. I guess they view it as payback for the sins of history. Hence, they will confirm her.
David from Springfield, Missouri writes:
If she made this decision on something so clear-cut then I am no longer a fan of hers. It's so obvious how these men were denied; they did absolutely nothing wrong. And if she couldn't see that, or didn't want to see that, it would be a big mistake to put her on the court.
Raoul from New Orleans writes:
"Republicans say the Supreme Court's decision raises issues about her ability to serve on the high court." This from the gang who allowed Harriet Miers to even get nominated?