FROM CNN's Jack Cafferty:
A couple of high-profile sex scandals were probably just about the last thing the Republican Party needed. This is the party of "family values," after all. First was Senator John Ensign of Nevada - who admitted to having an affair with a former staffer.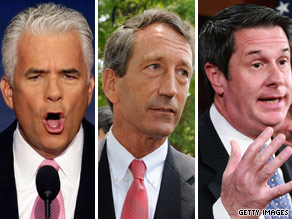 L to R: Sen. John Ensign (R-NV); Gov. Mark Sanford (R-SC); Sen. David Vitter (R-LA)
Next was South Carolina Governor Mark Sanford. After going AWOL for nearly a week - with staffers saying he was hiking the Appalachian Trail - Sanford admitted to an affair with a woman from Argentina. Both Ensign and Sanford had been considered 2012 presidential hopefuls.
Also, don't forget about Louisiana Senator David Vitter... who is still in the Senate despite calls for his resignation... after his phone number showed up in the records of the D.C. madam a couple years ago.
Some wonder how much damage these incidents will have on the GOP in the 2010 elections. After all, the sex scandals come at a time when the party has been trying to rebrand itself. Although Republicans certainly aren't alone in dealing with these scandals - see Democrats John Edwards or Eliot Spitzer - they do make life more difficult for the party of traditional, family values.
But, former Vice President Dick Cheney, for one, isn't too worried... he says the Republican 2012 bench remains strong. Cheney says the party has "got some great talents out there," and that "in adversity, there's opportunity." Cheney helped create the adversity the Republican party is trying to overcome.
Here's my question to you: How much will recent Republican sex scandals affect upcoming races?
Interested to know which ones made it on air?
Lou writes:
Maybe it will help the GOP in the long run. Somewhere along the line they started thinking they were the morality police for America. They can't claim that title anymore. If they're smart they'll go back to what Republicans once stood for: a party for smaller government and fiscal responsibility. That's a party I could come back to.
Michael from Fort Hood, Texas writes:
I think voters are upset with the hypocrisy and arrogance of the GOP, which vilified President Clinton and others for their moral failings, but has refused to acknowledge the shortcomings within its own family. The GOP has for years preached one message from the pulpit, but lived another outside of it. That will be their undoing.
Jim writes:
I think the Republicans will do just fine. With the president we have, the Democrats will cut their own throats; it's just a matter of time.
T.G. from the Virgin Islands writes:
As far as the upcoming elections are concerned, the Republican Party is done. The only way they can re-brand themselves is to throw out the label of being conservatives who represent families.
Bert writes:
Jack, It seems difficult to read how the affairs of these politicians will affect the people and election results. When Clinton's scandal hit the news, many wanted to kill him. Then he became the highest paid and most sought after speaker for years. It seems like affairs go with the business; politicians either get amnesty or America loves drama! So you figure it out!
Lisa from Ashford, Alabama writes:
Sex scandals may be the best thing to happen to the Republican Party. It takes our mind off the fact they wasted the last eight years they were in power.
Shelby from Orlando, Florida writes:
Memory is selective and partisan loyalty is strong. The sex scandals will be forgotten in the upcoming elections.