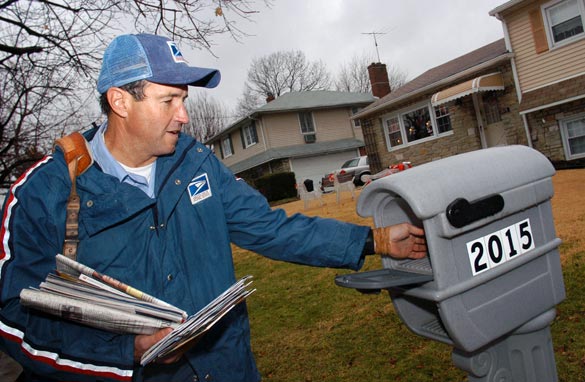 (PHOTO CREDIT: William Thomas Cain/GETTY IMAGES)
FROM CNN's Jack Cafferty:
A majority of Americans say they could get by with fewer mail deliveries so the U.S. Postal Service can save some money.
A new Gallup poll shows 66-percent of those surveyed would support cutting delivery from six to five days a week. 66-percent also back reducing the number of days the post office is open to five.
Fewer people support other cost-cutting measures like raising stamp prices or laying off more postal employees.
Despite the price of a first class stamp recently going up to $0.44. The post office is on track to lose more than $6 billion this year. It's being squeezed by several factors - including the economic slowdown, and competition from the internet as well as with private carriers.
When you add on rising gas prices... things could get even worse. Maybe we can get to $5.00 for a stamp and the mail will be delivered once a month. It's no wonder people increasingly are turning to UPS and FedEx.
Postmaster General John Potter wants permission to cut the number of postal delivery days. If it happens, they would cut back delivery on a day with light mail volume - possibly Saturdays or Tuesdays.
But not everyone supports the idea. Many manufacturers, publishers, and other small businesses say it would hurt their cash flow and their ability to get their products out.
Here's my question to you: Would you support fewer days of mail delivery to save the postal service money?
Interested to know which ones made it on air?
Rob writes:
Yes, I believe the mail could be delivered Mon. through Fri. Just by cutting Saturdays, they could save a lot of money. I can't believe there is anything so pressing that it needs to have weekend delivery. If so, send it next day air.
Yussef writes:
Reducing days of mail delivery would not address the fundamental flaws of the USPS: it has an outdated, excessively large and rigid infrastructure. The USPS has failed to evolve with changes in the postal/mailing industry. It simply cannot compete with other flexible, innovative and efficient mail providers.
Katie from Illinois writes:
I most certainly would. Everyone I know would not care if Saturday delivery of mail was discontinued. But, the postal service needs to look inward. They, like so many others, offer perks, retirements, vacation days, etc. that far surpass the norm… Yet, the solution has always been an increase in postage.
Mitch writes:
I have always felt that Saturday mail delivery was unnecessary. I do not see the need to get mail on Saturday as most businesses are closed.
Charles writes:
Yes, I think we could do without daily mail delivery since I get mostly unsolicited (junk) mail. If these junk mail senders had to pay the same as I do to send mail, it would either give USPS more money or possibly less mail to deliver. Monday, Wednesday, Friday mail delivery would be fine with me.
Judy from Exeter, California writes:
Sure, why not? I don't get my mail on time now anyway. What's a couple more days?
Kathy from Georgia writes:
Yes, it brings a whole new meaning to "the check's in the mail."