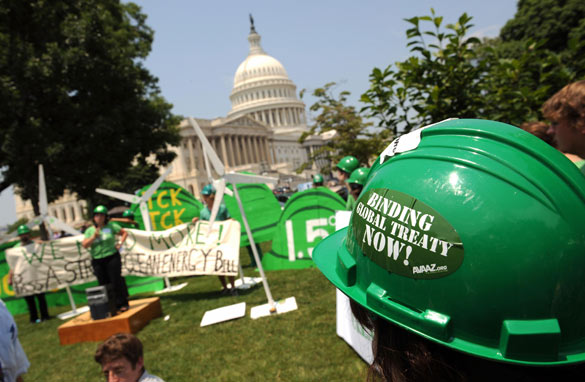 (PHOTO CREDIT: Tim Sloan/AFP/GETTY IMAGES)
FROM CNN's Jack Cafferty:
House Minority Leader John Boehner calls the climate change bill a "pile of manure." Only he used the other word for it.
The Democrats released a 300-page amendment to this 1,200-plus page bill at three a.m. on Friday - just hours before the chamber would vote - and before the July 4 recess. Much like the economic stimulus bill, it seems nearly impossible that members even had the chance to read it. The bill passed by a narrow margin - with virtually no Republican support.
The measure would reduce greenhouse gas emissions 17-percent by 2020 and 83-percent by 2050 through the so-called "cap and trade" program where companies would buy and sell emissions credits. It would also force utilities to make more power from renewable sources.
Democrats hail the bill as transformational legislation; but it faces an unclear fate in the Senate where majority leader Harry Reid says they will take it up in the fall.
Opponents say some industries will just move jobs overseas to countries that don't control greenhouse gas emissions. Republicans insist the bill amounts to the largest tax increase in U.S. history... saying it will tax anyone who drives a car, flips on a light switch, etc. But Pres. Obama insists it will cost the average American about the price of a postage stamp every day.
Here's my question to you: Should the House have passed a 1,200 page climate change bill amended only hours before it was voted on?
Interested to know which ones made it on air?
Robert from New York writes:
During the campaign, President Obama committed to letting the American people view all legislation online for several days before a vote. Apparently the representatives voting on the bill don't even have the opportunity. I support climate legislation, but I also deserve the right to see what is in the bill so I can contact my representative if I oppose any of the funny business that usually gets sneaked in. More change we can believe in.
Edith from Tennessee writes:
No, it didn't take long for things to go back to business as usual - except now it's the Democrats screwing us.
Robert writes:
There should have been more time to read the bill, no question there. But relative to the issue of climate control, we must do something now. It is not going to get better or easier. So we have to bite the bullet for our future and the future of our children, grandchildren and generations to come.
P. writes:
Yes, the bill should be passed. Why are we all acting like all members of Congress read the zillions of pages presented before them? That is for the technicalities. They all know the few main provisions of the bills. My question is: Did Boehner ever read anything while Bush was president?
Scott writes:
No they shouldn't have passed the bill. The bill is nothing but a Nancy Pelosi special and should've been voted down. The fact that 300 pages were added to the bill just hours before the vote shows how fast the Democrats were trying to push this thing through. I'm very surprised that many Democrats in coal-producing states voted for this piece of crap.
M. writes:
Wasn't it P.T. Barnum who said "There's a sucker born every minute?" This is a massive tax hike disguised as a "feel good" environmental bill. Want zero emissions? Build nuclear plants, and move on.
Len writes:
Not to worry, Jack, I'm sure that they all had lobbyists that read the bill for them. I miss my country.